Oil tanker freed in Northwest Passage off Canada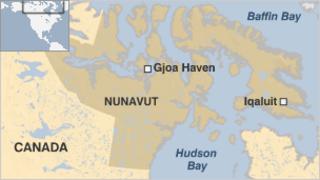 A ship carrying 9m litres (2m gallons) of oil has been freed after running aground two weeks ago off the coast of northern Canada.
A Department of Transportation spokeswoman told AFP news agency the ship's owner had lightened the vessel's load by pumping out some of the oil.
The oil tanker was dislodged without leaking any oil into Arctic waters, the Canadian Coast Guard said.
The MV Nanny became stuck when it hit a sandbar in the Northwest Passage.
The operation to free the ship, which is owned by Newfoundland-based Woodward's Oil, took place over a period of two days near the village of Gjoa Haven in the Nunavut federal territory.
The Department of Transportation is conducting an investigation into how the oil tanker became stuck on the sandbar.
Gjoa Haven, or Uqsuqtuuq in the Inuktitut language, is the only settlement on King William Island.
The Northwest Passage is one of the most fabled sea routes in the world - the most direct shipping route from Europe to Asia through the Canadian Arctic. Historically, it has been ice-bound throughout the year.