Baltimore hospital gunman 'kills mother and himself'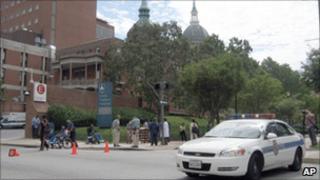 A man has shot a doctor at a hospital in the US city of Baltimore, before shooting his ailing mother dead in her bed and killing himself, police said.
Police at Johns Hopkins hospital said the gunman had shot the doctor once in the chest after becoming distraught at news about his mother's condition.
The doctor was said to be recovering from a non-life threatening wound.
Police discovered the two dead bodies after a stand-off. They identified the gunman as Warren Davis, 50.
Baltimore police commissioner Frederick Bealefeld said that at about 1100 local time (1500 GMT), Mr Davis was standing outside his mother's hospital room being briefed by the doctor.
He became "overwhelmed by the news of his mother's condition", then pulled from his waist a small semi-automatic handgun and fired a single shot, striking the doctor in the lower chest, Mr Bealefeld said.
The man then barricaded himself in his mother's room, Mr Bealefeld said. Heavily armed police offers arrived at the scene and took positions surrounding the room.
About two hours later, police determined Mr Davis was lying on the floor and his mother, identified as Jean Davis, was "unresponsive" in the hospital bed, Mr Bealefeld said.
"At this point, we are treating this case as a murder-suicide, and obviously the shooting of the doctor preceding this discovery," he told reporters.
The hospital, one of the most prominent in the US, is largely open as normal while police investigate the crime scene.