Bedbug attack closes flagship Nike store in New York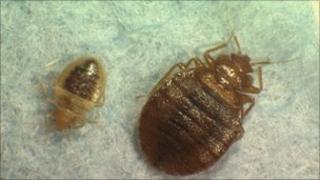 Nike's flagship shop in New York has temporarily closed as the sportswear firm battles an infestation of bedbugs.
Nike said it had "proactively" taken a decision to close the Manhattan store, which sells clothing and shoes.
The small insects bite humans and cause itching and soreness in some of their victims.
A study released in July from the National Pest Management Association and the University of Kentucky found bedbug infestations were on the rise.
"Our primary concern is the well-being of our consumers and sales associates," Nike said in a statement.
"We are taking all proper steps to eradicate the problem, and we expect the store to reopen shortly."
Two decades ago, conventional wisdom was that bedbug populations were being held in check in the developed world, but recently there has been anxiety that they are returning in much greater numbers.
Some experts think the creatures may have developed a resistance to modern pesticides and that they are being spread by increased international travel.
Bedbugs, which measure up to 5mm across, thrive in warm surroundings.
They make their homes around mattress seams, in bed frames, behind headboards or skirting boards, and within furniture and electrical fittings.
Even when deprived of blood, individual bugs can survive a year or more - allowing infestations to persist in empty properties or stored furniture.
When conditions are right, and food is in plentiful supply, numbers can rapidly spiral.