How interpreters at the UN get the message across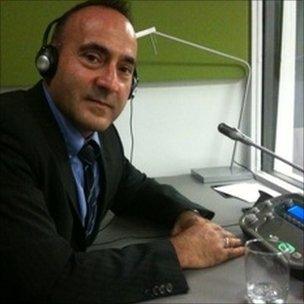 Cuba's Fidel Castro spoke for more than four hours. Indian politician VK Krishna Menon was on the podium for more than eight hours.
When delegates at the United Nations are faced with a runaway speaker - going far beyond the usual 15 minutes or so - how do their live interpreters deal with the situation?
The man who was interpreting the General Assembly speech by Libya's Colonel Muammar Gaddafi, this time last year, reportedly broke down towards the end of the 96-minute speech. "I just can't take it any more," said Fouad Zlitni, according to the New York Post.
Colonel Gaddafi had insisted on using his own translator rather than take advantage of an official simultaneous interpreter.
"Some of us saw it here at the UN and it was very unfortunate for him," says Angelo Macri on BBC World Service. He is one of over 100 official simultaneous interpreters at the UN.
"I think he was working under very difficult conditions."
This week, leaders and representatives of the UN's 192 member states are gathering in New York to discuss key global issues hoping that their messages - in all six official UN languages - will be faithfully delivered by a group of official interpreters.
The Gaddafi incident is just one example of how taxing the job of an interpreter can become during big and unfolding events.
One has to be quick, precise and be aware of the issues concerned. "You can't interpret properly if you don't understand it," says Mr Macri.
"The mental effort takes its toll on your body. You feel fatigued and exhausted when you come out of it," he says.
When the former UN Secretary General Boutros Boutros-Ghali was sworn in, in 1992, the Arabic interpreter caused a roar of laughter in the General Assembly by describing him as the Secretary General of the United States rather than the United Nations.
The interpreter caused a second round of laughter as he essentially explained his own mistake by continuing to translate the President of the General Assembly who was explaining the reason behind the first spate of laughter.
"So they burst out laughing even louder and started applauding," says Hossam Fahr, who is the chief of interpretation service at the UN Secretariat.
"So I have the dubious distinction of being the one interpreter that I know of, who got a round of applause in the General Assembly for making a mistake."
That's why in most UN meetings, interpreters tend to work in groups or pairs.
"The rule of thumb is we interpret for half an hour simultaneously," says Mr Macri.
"After that your concentration starts to wane and the interpretation suffers in quality.
"So we interpret for half an hour and then we take half-an-hour break."
Large international events like the General Assembly may require as many as 100 additional interpreters. Many of them are freelancers and some are on loan from other UN offices, says Mr Fahr.
Mistakes are unusual but not exceptional, he says.
"This is a profession that never ceases to remind you that it has no master.
"There will come a time when you will make a mistake.
"Sometimes you are the only one aware of the mistake," but every once in a while others notice it too, he says.
Mr Fahr says the first question he is often asked at dinner parties and in social gatherings is how can someone listen to an argument, process and interpret it in another language, while listening to the speaker's next line of thought.
"I always tell them it takes a little bit of neurosis," he says, adding, "the more neurotic the better.
"They have to be addicted to their own adrenaline."
If a speaker becomes passionate the interpretation should reflect that passion and remain faithful to the speaker, says Mr Macri.
"I think interpreters are part actors. Whatever emotions the speaker has, you have to convey it in the interpretation.
"You start acting," he says provided that the interpreter can pull if off.
The job can become truly difficult if a delegate begins to read quickly from a text or starts quoting from a document that the interpreters did not have access to, says Mr Macri.
"That's one of the situations that we dread."
Most UN interpreters are fluent in more than two of the organisation's six official languages - Arabic, Chinese English, French, Russian and Spanish. They usually have years of experience before joining the core group of interpreters in New York.
Mr Macri says interpreters not only have to be aware of current global events, they also prepare glossaries and read up on UN documents, so that they are prepared for technical matters ranging from weapons of mass destruction to the spread of bird flu.
Not everyone comes into the profession with an academic degree in translation. "We have engineers, lawyers, we have people from very many varying backgrounds," he says.
"And of course, the more varied the background, the richer the experience, the wider the vocabulary and the bigger the ability to interpret different subjects."
So how do the interpreters keep discussions over sensitive geopolitical issues - often held in closed doors - to themselves?
This, says Mr Fahr, is the other most asked question at dinner parties.
"I always say, one of the codes of our profession is what you hear in the conference room remains in the conference room.
"You should just forget it as soon as you come out," he says.