Lady Gaga rallies against US ban on gays in military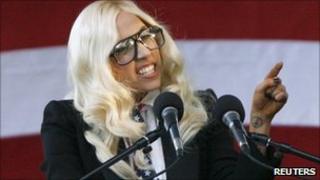 Pop singer Lady Gaga has led a rally against the "don't ask, don't tell" policy that prevents openly gay people serving in the US military.
Under the policy, which President Obama has promised to repeal, gay people can serve but face expulsion if they reveal their sexuality.
The star appeared at the rally in Portland, Maine, particularly targeting the state's two Republican senators.
The pair are seen as pivotal in a crucial Senate vote on Tuesday.
A proposal to repeal the "don't ask, don't tell" policy is attached to a defence bill which the Democrats will try to bring to a vote this week.
They need 60 Senate votes on Tuesday to cut off debate and proceed to the bill.
Senators Olympia Snow and Susan Collins, of Maine, have yet to reveal their voting intentions and their votes may be necessary to avoid opponents using procedural delaying tactics.
Suit and tie
More than 2,000 people attended a rally at a park in Portland, Maine, on Monday where the singer stood alongside military veterans who were discharged from the US armed forces because of the policy.
Wearing a jacket and tie, instead of one of her signature, flamboyant outfits, the singer suggested a new policy should target straight soldiers who are "uncomfortable" with gay soldiers in their midst.
"Our new law is called 'If you don't like it, go home!'" she said.
The Obama administration has said any repeal of the law would not be implemented until after the Pentagon completed a review of its impact on the armed forces.
In the past, the issue of gays in the military has divided opinion in the US.
But most Americans now accept openly gay service personnel, according a recent Gallup poll.
Opponents of repeal say it could harm effectiveness and morale in the military.
However, supporters say the ban causes skilled personnel to be forced out.
"With the vote less than 48 hours away, we need everyone supporting repeal to call the Senate. We're bringing gay and straight service members to Portland to help make the case," said Aubrey Sarvis, an army veteran and gay rights activist.
Lady Gaga recorded a black and white, seven-minute video last week aimed at senators.
"Senator John McCain is attempting to stop the Don't Ask Don't Tell repeal vote this Tuesday, with a filibuster," the pop star wrote on Twitter.
"All hands on deck," she added. "Key senate vote this Tuesday on #DADT repeal. We need 60 senators. Call your senator now."