US faces growing problems in regulating fortune tellers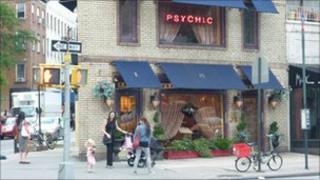 Fears that vulnerable people are being exploited have led to a growing push to regulate commercial fortune-tellers in the United States. But what do the diviners - historically free to ply their trade - think of the new laws, asks Claire Prentice in New York.
Fortune telling is big business. One in seven Americans has consulted a psychic or fortune-teller, according to a recent survey.
In some parts of New York there are psychics and tarot card readers on almost every block, charging anything from $5 (£3) to over $100 (£63) for a consultation.
And practitioners say business is booming against the backdrop of the recession, perhaps as growing numbers of people seek both recreation, and reassurance that a brighter future awaits them.
In the past, fortune-tellers have largely been free to operate without interference from federal, state or city authorities.
But in an increasing number of areas, officials are seeking to crack down on fraud and gain control of a growing industry.
As of this month, every fortune-teller in the city of Warren, Michigan must have a licence to operate. To get this they must undergo a police background check, have their fingerprints taken and pay an annual fee of $160.
Officials there say that regulating an industry, which few people understand and many regard as trickery, has its challenges.
But with more psychics setting up shop, they say something needs to be done.
"We are not saying these people with a licence can accurately predict your future," said Warren city council secretary Keith Sadowski.
"But we wanted to make sure we had some recourse in case we do get somebody who is not legitimate."
Officials in Warren say they will investigate if they get a complaint about a fortune teller behaving unethically.
'Deterring scam artists'
But how will law enforcement officials distinguish between someone spending money on harmless recreational fun and someone being ripped off?
"It is a pre-emptive measure," said Mr Sadowski. "We want to deter the scam artists and criminals who prey on innocent people. I hope anyone using these services realises that they are for entertainment purposes."
States in which steps have been taken at a local level to regulate the trade include Maryland, Illinois and Massachusetts.
Measures introduced include police interviews, background checks, registration fees, the random inspections of premises and a cap on the number of fortune tellers allowed to operate in a given geographical area.
If police receive a complaint, in some cases they will require a psychic, palm-reader or medium to give a dissatisfied client their money back.
Rosemary McArthur, the founder of the American Association of Psychics and Healers, said she would welcome tighter regulation.
"There are too many people out there being ripped off thousands of dollars," said Ms McArthur, who goes by the name of the Celtic Lady.
But, she added: "How does someone with no expertise, and who maybe doesn't believe in psychics, decide if a complaint is valid?"
Police in Annapolis, in the US state of Maryland, interview applicants to ensure they are "of good moral character" before issuing a fortune-telling licence.
Anyone found operating without one could face a fine of $100 (£63) and up to 90 days in prison.
"The fact that you need to get a stamp of approval from the police chief acts as a deterrent to impostors and gives consumers confidence," said Phil McGowan, Annapolis' public information officer.
"The system seems to work well," he said.
A spiritual community
In other parts of the country, psychics, fortune tellers and mystics have come together to police themselves, developing their own code of ethics.
Lily Dale in upstate New York bills itself as "America's mediums and spiritualists town".
It is a year-round spiritualist community and attracts thousands of tourists over the summer months.
Outside buildings all over town there are signs offering the services of mediums. Some have lengthy waiting lists.
To apply to work there as a medium, you have to be registered with a spiritualist church.
Before being accepted, candidates must undergo a testing process and be certified.
"Because we self-police, people feel they can trust us. They know that not just anybody can hang a sign outside their door saying 'medium' here," said Cara Seekings, a trustee on the Lily Dale Assembly Board who is involved in screening applicants.
Though she would welcome standardised testing procedures, Ms Seekings is sceptical such a system would work.
This view is echoed by New Jersey-based medium Craig McManus.
"It only takes one bad apple to get us all a bad reputation. If you are looking for a lawyer or a doctor, you check their credentials. Unfortunately, you can't do that in our line," Mr McManus said.