Canadian officials warn repairs may take months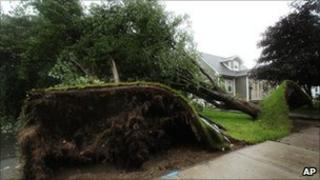 Canadian officials are warning that fully repairing the damage done by Hurricane Igor in Newfoundland last week is likely to take months.
Hundreds of government and military personnel are now providing food, medicine, water and fuel to thousands of people in the region.
But local minister Tom Hedderson said work on roads and bridges would not be complete "before winter sets in".
The hurricane flooded towns, causing about $100m (£61m) of damage.
Mr Hedderson, the provincial transport minister, said that with colder temperatures quickly approaching only temporary fixes could be made to some infrastructure in the affected province.
"There's no way we can start bridges now and have them completed before the winter sets in," Mr Hedderson said.
"Again, we're looking at making sure as we go forward [that] it is strategic and planned. And any of the temporary fixes that we make, that we will be going back over them to make sure that they're safe," CBC News quoted him as saying.
Igor forced evacuations of flooded coastal towns in Canada's island Newfoundland province and reportedly swept one man out to sea, before being downgraded to a tropical storm and moving offshore.
Canadian Prime Minister Stephen Harper said he had "never seen damage like that" after visiting Trouty and Britannia, two of the hardest hit towns in the province, last week.