Pentagon oversees pulping of 9,500 copies of spy book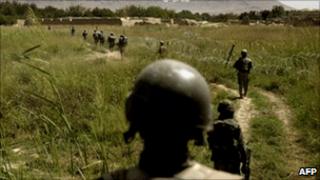 The US military has overseen the destruction of 9,500 copies of a book it claims printed intelligence secrets.
The Pentagon paid publisher Macmillan's $47,000 (£30,000) printing costs then had the copies pulped, officials said.
A new censored edition of Operation Dark Heart: Spycraft and Special Ops on the Frontlines of Afghanistan by Lt Col Anthony Shaffer was released on Friday.
The Pentagon said the initial manuscript had not been properly vetted.
"The publisher understood that we were concerned that classified information not be published and so they worked with us to make sure that did not happen," Pentagon spokesman Col Dave Lapan told the BBC.
'Bureaucratic bungling'
Col Lapan said Lt Col Shaffer had initially cleared the manuscript with his local reserve unit, but higher authorities within the military were only notified after it had been sent to the publisher, and they objected to some information included.
In the book, Lt Col Shaffer describes intelligence operations aimed at disabling Taliban insurgents and criticises what he describes as bureaucratic bungling that hampered the effort, according to publicity material.
"In the end, everyone is curious to find out what really is in the book. It's all worked out," Joe Rinaldi, spokesman for Macmillan imprint Thomas Dunne Books, told the BBC.