US chef on Gordon Ramsay TV show jumps to death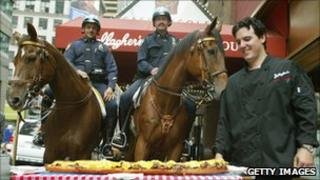 A struggling US restaurateur, who was subjected to harsh criticism by TV chef Gordon Ramsay, has died after jumping from a bridge, officials say.
The body of Joseph Cerniglia was found in the Hudson River off New York on Friday, officials confirmed.
In 2007, Cerniglia said on Ramsay's Kitchen Nightmares that his Italian eatery was indebted and near bankruptcy.
Ramsay questioned his business acumen and panned the restaurant.
Officials said Cerniglia, 39, leapt from the George Washington bridge spanning the Hudson river between New York's Manhattan borough and the state of New Jersey and have ruled the death a suicide.
In 2007, Cerniglia said on Ramsay's show his restaurant Campania in the state of New Jersey was in "overwhelming" debt and the dire situation threatened his wife and children.
Mr Ramsay asked why he had become a restaurateur if "you haven't a clue how to run a business".
On Tuesday, Mr Ramsay was quoted by the Press Association as saying: "I was fortunate to spend time with Joe during the first season of Kitchen Nightmares.
"Joe was a brilliant chef, and our thoughts go out to his family, friends and staff."