Thousands of LA residents lose power in heat wave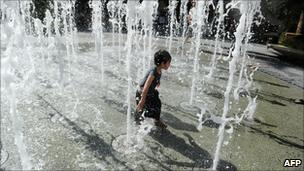 More than 11,000 Los Angeles residents remain without electricity a day after 45C (113F) temperatures caused a record surge in demand, causing power cuts.
Temperatures were above 38C on Tuesday in parts of the city, after sending thermometers soaring the day before.
The heat has been blamed in the death of Oscar-nominated film editor Sally Menke, a longtime collaborator of director Quentin Tarantino.
Officials believe Menke died from hyperthermia during a hike on Monday.
The temperature was so high that the National Weather Service said on Tuesday its thermometer in Los Angeles had stopped functioning for a time.
Record demand for electric power there may have contributed to an explosion in an electrical closet in an office tower, officials said.
"Because we've had such hot nights, people are still running their air conditioners," Vanessa McGrady, spokeswoman for Southern California Edison, told the Associated Press news agency.
"The equipment really doesn't get a break."