Black and single in New York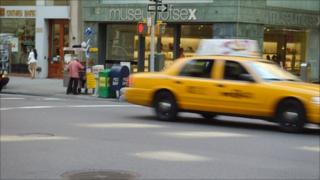 Bene is a young, bright and beautiful black woman in Manhattan. But she thinks that finding a decent black man who could be marriage material may not be so easy.
"I'm looking for someone who is smart, funny, ambitious, someone who is in his career or actively working towards a career," she says.
Single, college-educated, black women like Bene are playing a tricky numbers game when it comes to finding a suitable marriage partner in the US.
'Education gap'
In a Yale University study by Nitsche and Brueckner, about 22% of highly educated women - both black and white - between the ages of 20 and 45 were single in the 1970s.
But that number has diverged over time, between the races.
It has remained the same for white women, but now 38% of black women have never been married.
The study argues that this is hindering the progression of the black middle classes.
Averil Clarke, assistant professor at Yale University, has written on the subject, and sheds light on one of the reasons behind the statistics.
"There are not many college-educated black men out there and black women are aware of the numbers," she says.
The education gap is wide between the sexes, with 40% more black women than black men continuing in education and going on to college.
According to a Columbia University study, boys who drop out of high school are 60% more likely to end up in prison.
Blind date
Bene agreed to go on a blind date to explore some of the issues involved.
Andre is a 25-year-old African-American man who has been in and out of prison on drug and gun charges.
He was offered a full scholarship at a university, but it was withdrawn after he got arrested.
If Andre had taken up his scholarship and not ended up in prison, he could have been on a similar income and education level to Bene at this point in their lives.
"As long as he's intelligent, I do not mind about his past background. Everyone makes mistakes and in society, quite often we do not give each other a second chance," Bene says.
'Totally dysfunctional'
A third of African-American men, at some point in their lives, spend time behind bars.
But there are problems with dating men who have been in prison according to Mark Goldsmith, who runs a non-profit organisation called Getting Out and Staying Out, which helps young men who have just come out of prison.
"Some of these young men come from totally dysfunctional families," he says.
"They come from neighbourhoods with terrible schools which they leave in ninth grade (age 13-14) to sell drugs on the street. It's an epidemic of young men of colour."
Mr Goldsmith thinks this background feeds into the relationships these men have when they're older.
"They have no idea what a healthy relationship with a woman is all about - remember they may have never seen one. They see women as sexual objects and women have a low opinion of them too," says Mr Goldsmith.
Inter-racial relationships have increased in America but more men are going down that route then women.
While 14% of educated African-American men in the US tend to marry outside their race, only 4.5% of women choose that route.
Bene and Andre meet at a basketball game as Andre is the team coach.
After the date, Andre makes it clear that there is chemistry between them.
"I like her as she's intelligent and she's street smart too and I like that, but it's in her power," he says.
Bene is impressed with Andre's honesty and intelligence.
"He's polite, cute and a good guy, but I could not date him. And let's be realistic - what kind of job is he going to get as an ex-felon?" Bene says.
But given his current situation, Andre has been effectively taken out of the dating market.
And there are many men who are in a similar position to Andre.
"In the community that I come from, it is really normal," says Bianca van Hadren, who works at Getting out and Staying Out.
She says she would consider dating ex-convicts, despite the fact this would not be the ideal scenario.
So not all is lost for men like Andre.
But for Bene, the struggle to find an eligible man from her own race, socio-economic and educational background carries on.
You can hear Nina Robinson's Assignment programme on the BBC World Service on 30 September 2010