Ex-US President Carter leaves hospital after illness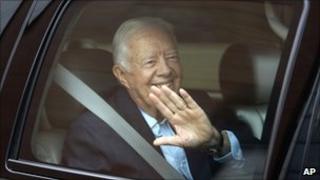 Former US President Jimmy Carter has left an Ohio hospital after spending two days recovering from a viral infection doctors say probably caused his stomach pains.
The 85-year-old fell ill with an upset stomach while travelling to promote his new book, White House Diary.
Mr Carter will resume his schedule with a meeting in Washington, a spokesperson for MetroHealth Medical Center said.
He took office in 1977 and won the Nobel Peace Prize in 2002.
Before his motorcade pulled away outside the emergency room, Mr Carter smiled and waved to bystanders. He then left the area on a private jet about 15 minutes later.
"He thanked his medical team at MetroHealth for the attentive and comprehensive care and treatment he received during his stay," medical centre spokeswoman Eileen Korey said.
Mr Carter, who will turn 86 on Friday, was taken to hospital on Tuesday after developing an upset stomach on board a Delta Airlines flight.
Mr Carter has recently called for the US to develop stronger ties with Iran and North Korea.
Last month, Mr Carter secured the release of Aijalon Mahli Gomes, a 31-year-old American citizen detained in North Korea.