As Emanuel leaves White House, Rouse takes on new role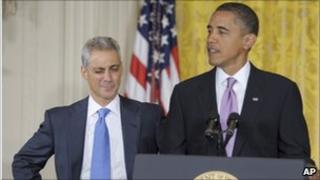 The body language said it all.
As President Obama announced the departure of his combative chief of staff, Rahm Emanuel stood on one side of the president, hands on his hips, apparently enjoying the moment.
After all, it wasn't just that the president was saying nice things about him.
With the cabinet in attendance, this was also tantamount to a launch party for his Chicago mayoral bid.
To the president's left, an owlish Pete Rouse cut a rather different figure - almost visibly squirming when the president described the less flamboyant skills of his new enforcer.
The president's choice of words was telling too. He called his new chief of staff an "arbitrator".
No one ever said that about Rahm-bo.
'What Obama needs'
Perhaps, with Congress expected to become an even more difficult place for the White House to do business after November's midterms, a soft-speaking negotiator is just what the president needs.
The "101st senator" certainly has the connections and the experience to operate effectively on the Hill.
Where Mr Emanuel was criticised by Republicans as a partisan hitman and by progressive Democrats as responsible for watering down the president's reforms, Mr Rouse may find it easier to tread a more conciliatory path.
Inside the West Wing, Mr Rouse's reputation as the man who put out the fires that the irascible, profane Mr Emanuel seemed to ignite in the course of his ruthless pursuit of the president's agenda, may also be good for morale.
These are anxious times. With a hesitant economic recovery still not really being felt on Main Street, the Obama Administration has been buffeted by a number of high-profile resignations from the president's economic team, culminating in the departure of Larry Summers, another combative figure, ten days ago.
The departure and arrival of new staff needs to be expertly handled and most people seem to think that Mr Rouse is just the man.
Returning home
And what of Mr Emanuel's mayoral bid?
It seemed typical of this driven, ambitious man that he opened his remarks with talk of the prospect of new challenges.
He said he is excited to be returning to "the greatest city in the greatest country in the world."
He said he was "energised by the prospect of new challenges" and "eager to see what I can do to make our home town even greater."
But while Rahm Emanuel may now be the most high-profile candidate to fill the shoes of Mayor Richard Daley, he's not necessarily a shoo-in.
A Democratic strategist in Chicago said Mr Emanuel had simply been away from the Windy City for too long.
The fact that the would-be mayor was about to embark on a "listening tour" of the city, he said, was proof that he had a lot of catching up to do.