More than 100 arrests, as FBI uncovers cyber crime ring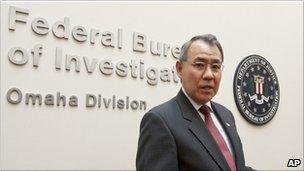 The FBI says it has cracked a major international cyber crime network after more than 90 suspected members of the ring were arrested in the US.
The suspects worked as so-called mules for fraudsters based in Eastern Europe who hacked into US computers to steal around $70m.
More people were detained in Ukraine and the UK, local police said.
The FBI said the arrests were part of "one of the largest cyber criminal cases we have ever investigated".
Most of those arrested in the US were charged with conspiracy to commit bank fraud and money laundering, a US Attorney said.
They are suspected of acting as go-betweens or mules by providing bank accounts for an elaborate cyber crime scheme.
Hackers in Eastern Europe would use spam email to infect computers of small businesses and individuals in the US with a virus known as Zeus, the FBI said in a statement.
The unnamed hackers were then able to to access users' online passwords and bank account details and used them to transfer money to the bank accounts provided by the go-betweens in the US.
The crime ring attempted to steal around $220m, the FBI added.
The arrests were the result of an international operation that kicked off in Omaha in May 2009 when FBI agents noticed a row of suspicious bank transactions.
Law enforcement agencies in the US, Ukraine, the Netherlands and the UK were also involved in the investigation.
Police in the UK arrested 19 people suspected members of the ring.
In Ukraine, police arrested five people suspected of directing the scheme, the FBI said.