One Nation march seeks to rally US liberals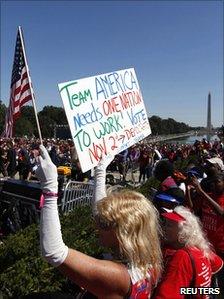 Thousands of people have been attending a rally in Washington DC in support of jobs, education and civil rights.
Organisers called it a One Nation rally, hoping to rekindle enthusiasm for the liberal causes that brought President Barack Obama to office.
Five weeks ago, conservative activists held a huge rally at the same spot to denounce the administration.
The US Democrats are expected to lose seats in Congress during mid-term elections in a month.
The One Nation event has been organised by American trade unions and other left-wing groups.
Among those on the stage were the civil rights leaders Al Sharpton and Jesse Jackson, along with the singer Harry Belafonte.
They were joined by representatives from various progressive groups in the fields of education and labour relations, and a steady stream of left-wing activists.
But it was the crowd itself that offered a rare sight; liberals and progressives have kept a relatively low profile since the election of Barack Obama in 2008, says the BBC's Iain MacKenzie in Washington.
Meanwhile, the political momentum has switched to conservative groups such as the Tea Party - a vocal organisation that opposes big government and wants to reverse most of the president's reforms.
It has staged several rallies in Washington over the past year.
Organisers say the event is not intended to be political, but those attending are overwhelmingly supporters of Barack Obama's Democratic Party.
"The nation put this man in the White House in order to change things, and if we don't come together and show the people who are trying to stop us, the minority that is trying to stop us, we will never get anywhere," said one.
If the intention of the One Nation rally was to re-energise the Democrats' supporters, it is happening very late in the day, our correspondent says.
The US mid-term elections take place in less than a month. Current polls suggest the president's party is on course to lose controlf of the House of Representatives, and possibly even the Senate.