Rutgers University holds vigil for sex video student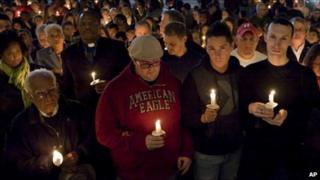 Rutgers University in New Jersey has held a candlelight vigil for a student who killed himself after two fellow students allegedly filmed him having sex with a man.
The hour-long silent vigil was held on the university's campus in New Brunswick , with students hugging and holding hands in a show of unity.
Tyler Clementi jumped to his death from a bridge on 22 September.
Two students have been charged with illegally filming the 18-year-old.
The vigil offered "an opportunity to come together in this difficult time to reaffirm our commitment to the values of civility, dignity, compassion and respect for one another", Rutgers President Richard McCormick said in a statement.
Mr McCormick added that Rutgers had a strong history of social activism on behalf of diversity.
He invited students to take part in a working group called "Project Civility", which would also examine "the critically important issues of personal privacy and the responsible uses of technology".
Rutgers University also paid a public tribute to Mr Clementi at a football match on Saturday. Most in the crowd bowed their heads after an announcer requested a moment of silence for the first-year student before the start of Saturday's homecoming game against Tulane.
The footage of Mr Clementi was allegedly taken using a web camera in his dorm room at the Rutgers and broadcast live over the internet.
The two charged with filming and broadcasting the images are Mr Clementi's room-mate, Dharun Ravi, and Molly Wei.
If convicted, they face up to five years in prison.