Shock at student's suicide over sex video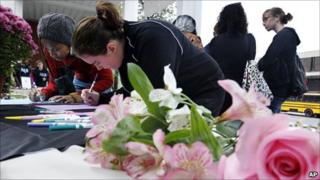 Eighteen-year-old Paul Zilber is angry, hurt and saddened by Tyler Clementi's suicide.
Paul is a gay student, and he is navigating his way through his first year at Rutgers University, New Jersey, just as Tyler Clementi was until he committed suicide last week, by throwing himself off the George Washington bridge.
Video of the freshman student having sex with a man was broadcast on the internet via webcam, allegedly by two students who are now facing charges of invasion of privacy.
Paul says this is not just about a cruel and unjustified invasion of privacy, it is also about homophobia.
"I can understand what Tyler went through when people found out about the video - pain, confusion, feelings of rejection; he probably thought being gay, 'I can't be accepted in today's society, I might as well be dead', and so he went through with it."
Paul was one of hundreds of students who attended a candlelight vigil for Tyler Clementi on Sunday night, by a banner which read "Rutgers Reacts - Uniting for healing, peace and social justice".
For almost an hour, students stood silently, hugging one another, and reflecting on what happened.
Sofya Andermicael, a 20-year-old student, told the BBC she was disgusted by the way Tyler Clementi's private moments were intruded upon and streamed on the web.
"I feel that drove him to do this," she said.
'Cyberbullying'
Standing next to Sofya was 16-year-old Julie Berg, who hopes to attend Rutgers when she finishes school.
Julie said she too has been a victim of cyberbullying.
"Just about everybody in high school has been cyberbullied at least once, whether it's being cursed at, or having a fan page made about them on Facebook about hating someone."
In her case, "it was a guy being mean and calling me names. But whether you're gay or not, cyberbullying I think is a major crime".
Students at the rally want people in Tyler Clementi's situation to report online bullying and invasions of privacy to the university administrators, and to reach out to the lesbian and gay support groups on campus.
There were also calls for the two students said to be responsible for the prank that went so wrong to face harsher charges than just invasion of privacy.
Prosecutors in New Jersey are looking at whether it is possible to bring charges under the state's hate crimes law.
Sofya Andermicael says the two students deserve what they get.
But Bills Dobbs, a gay rights activist holding a placard reading Justice Not Vengeance, was more cautious.
"Right now a lot of people are angry, and hurt, and very emotional about this suicide. It's important to keep what happened in perspective, and not to jump to the conclusion that, just because we read it in the papers and heard it on TV, those apparently responsible did in fact do it, and that they deserve draconian penalties. There could be mitigating circumstances that we don't know about."
As Rutgers mourns the loss of their student of only one month, Tyler Clementi's family has issued a statement.
Their hope is that this personal tragedy will serve as a call for compassion, empathy and human dignity.