US Supreme Court term opens with new judge Elena Kagan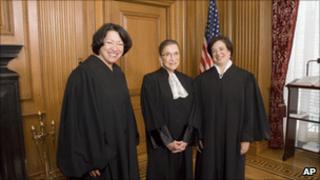 The US Supreme Court has opened its latest term with new Justice Elena Kagan one of three women on the bench.
Ms Kagan will sit out some 24 cases, out of about 52 on the calendar, in which she participated in her previous job as solicitor general.
Among others, Ms Kagan has recused herself from a case in which two convicts challenge a mandatory minimum sentencing law, the court said.
This is the first time the nine-judge panel has included three women at once.
The court opens on Monday with a case questioning whether an individual filing for bankruptcy can deduct the ownership costs of a vehicle from his or her projected income, lessening the amount owed to creditors.
Among the most closely watched cases of the new term will be one that tests laws regulating noisy protests at military funerals.
The court this week will also hear arguments on whether a prosecutor's office can be held liable for the illegal conduct of one of its employees and whether the US Constitution allows prosecutors to present as witness testimony statements that a gunshot victim made before he died.
As solicitor general under President Barack Obama, Ms Kagan was involved in preparing some of the cases now being argued before the Supreme Court.