Canada truck crash dumps pigs on highway ramp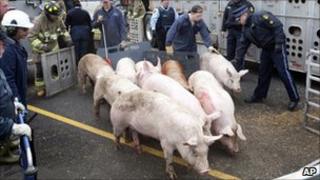 A truck carrying 235 pigs has turned over on a ramp leading to a busy Canadian highway outside Toronto, killing 81 swine.
The 26-year-old driver lost control of the truck as he was bringing the pigs to a slaughterhouse, police said.
It took several hours for police and firefighters to corral the surviving pigs, about 50 of which had wandered on to the Gardiner Expressway ramp.
The driver, who was not hurt, has been charged with careless driving.
"Too much speed was involved, and the truck overturned, and a number of the swine escaped from the vehicle," Ontario Provincial Police official Graham Williamson told reporters.
The Canadian Food Inspection Agency will hold the surviving pigs for 24 hours, inspect them and determine if they are still suitable to be slaughtered.
The Ontario Society for the Prevention of Cruelty to Animals told the Canadian Broadcasting Corporation that seven of the surviving swine had had to be euthanised.