Who is Liverpool's new owner?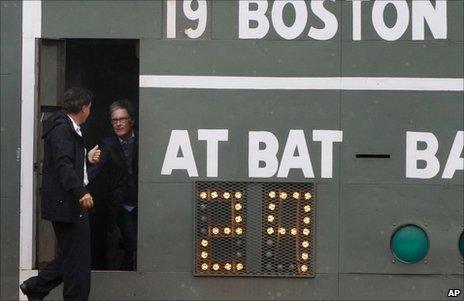 Liverpool FC have been taken over by the consortium which owns the Boston Red Sox baseball team, but who is the man behind the bid?
The purchase of Liverpool FC by the owners of the Boston Red Sox is still not a huge story in the baseball team's home city.
Look at the sport section of any newspaper website in the area and you'll see stories about American football.
There have also been some gloomy predictions about the financial consequences of the lacklustre season the Red Sox have had.
But it's hard to find harsh words for John Henry, the 61-year-old businessman who leads the Red Sox ownership consortium.
Mr Henry and the other new owners are lauded for ending the Red Sox's 86-year wait for a World Series title, clinching championships in 2004 and 2007.
The holding company - New England Sports Ventures (NESV) - also owns the Roush Fenway Racing stock car team as well as a minor league baseball team.
The key players in NESV have a track record of owning stakes in sports teams. Red Sox chairman Tom Werner had a successful career as a TV producer, backing a string of sitcom hits, including Mork and Mindy, The Cosby Show and Roseanne.
But his sporting experience includes past ownership of the San Diego Padres baseball team.
Larry Lucchino, president and chief executive of the Red Sox, has previously had similar roles at both the Padres and the Baltimore Orioles, after a career in law. The other key players are David Ginsberg, Red Sox vice-chairman, having been an executive at Mr Henry's firm, and Phillip Morse, also vice-chairman and a businessman from New York.
The Red Sox owners are given credit for their decision not to demolish the team's ground.
"They saved Fenway Park," says Joe Sullivan, sports editor of the Boston Globe. "We thought we were going to lose this historic ball park and it would be replaced by some modern facility.
"They have very intelligently refurbished it step by step. They have an even better ball park than it was. It is a gift to the people of Boston."
Mr Henry's background is in business, and he and the consortium have been happy to spend money in order to make money when it comes to the team itself.
"They spend the second-most money [in baseball]. They are willing to spend on players and player development," notes Sullivan.
But there are consequences for the fans. Ticket prices are among the highest in baseball.
Tickets typically range from $28 (£18) in the bleachers, to $52 in the infield grandstand and $130 in the box seat. Sitting pitchside costs more than twice that.
"It is in the three most expensive places to attend," says Sullivan. "It's not affordable for the common man."
Other revenue is generated from the New England Sports Network TV station as well as blanket advertising and sponsorship at the ground.
"Some people think it's overwhelming," says Sullivan. "They have advertising at every inch of the stadium."
Mr Henry is a well-known businessman in Boston, having made most of his fortune using computerised futures trading. He started applying trend prediction to trades in agricultural futures in the early 1980s and founded his own investment firm, JWH.
"He is soft-spoken, smart and very clear what he wants," says Gavin.
A key inspiration in his early career was Reminiscences of a Stock Operator, a 1923 book by Edwin Lefevre. He pioneered "managed futures", effectively the commodities equivalent of mutual funds, says Gavin.
There is no reliable estimation of his net worth, and Mr Henry does not give any indications himself.
He had come from a farming family and spent much of his youth in Arkansas, touring with rock bands, before knuckling down to accrue a fortune.
JWH is based in Florida, although Mr Henry also spends much of his time in Boston.
His wedding last year to Linda Pizzuti, nearly 30 years his junior, made the city's society pages, as did the arrival of their first child this year.
Mr Henry has close friends in nightclub owner and restaurateur Ed Kane and Mr Werner. The group of friends apparently calls itself the Cirque du Rire or Circus of Laughs.
"He's an amazing friend and someone I can turn to for anything," says Mr Kane. "Professionally, he's a winner and is driven to succeed."
The Red Sox owner has also been described as a private but personable man.
And his dedication to the Red Sox may be gauged by the fact that his wedding reception took place on the Fenway Park outfield.