18-seat Brooklyn restaurant earns two Michelin stars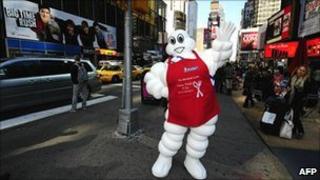 An 18-seat cafe in a grocery store in Brooklyn, New York, has earned two Michelin stars for its cuisine.
Chef's Table at the Brooklyn Fare grocery was honoured in the new Michelin Guide New York City 2011.
Michelin Guide director Jean-Luc Naret said the eatery was one of the best 300 restaurants in the world.
The cafe, which is in its first year of operation, was praised for Mediterranean and Japanese styles, mixed with French technique.
The cafe is now one of only 10 restaurants in New York to have two stars and the only one in Brooklyn. New York has five restaurants with three stars.
"I never expected this," chef Cesar Ramirez told the New York Times. "It's always about Manhattan, and I'm glad that somebody's recognizing what people are doing in Brooklyn."
The tasting menu at the restaurant costs $135 (£85) and patrons have to bring their own wine.