Michelle Obama tops Forbes most powerful women list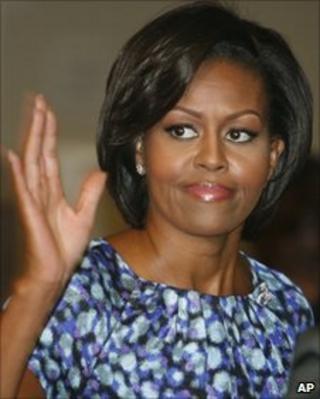 US First Lady Michelle Obama beat heads of state, chief executives and celebrities to be named the world's most powerful woman by Forbes magazine.
Kraft Foods boss Irene Rosenfeld came second in the magazine's annual list.
Media mogul Oprah Winfrey, German Chancellor Angela Merkel and US Secretary of State Hillary Clinton completed the top five.
Singers Lady Gaga and Beyonce Knowles made the top 10 while Queen Elizabeth II appears at number 41.
Forbes said this year's list was based "less on traditional titles and roles and more on creative influence and entrepreneurship".
Mrs Obama had "given a new generation of girls and women around the world a role model", the magazine said.
Last year Forbes ranked the first African-American first lady at 40 while Mrs Merkel topped the list.
ForbesWoman Vice-President and publisher Moira Forbes said: "The women on our list, through their respective realms of power and influence, are shaping many of the agenda-setting conversations of our day, and have become dynamic catalysts for driving meaningful change across the world.
"They have built companies and brands, sometimes by non-traditional means and they have broken through gender barriers in areas of commerce, politics, sports and media and cultural zeitgeist, and thereby affecting the lives of millions, sometimes billions of people."
Three chief executives feature among Forbes' top 10 most powerful women.
Besides Kraft's Irene Rosenfeld, there is Indra Nooyi, the head of beverage giant PepsiCo, and Gail Kelly, chief executive of Australian bank Westpac.
Talk show host Ellen Degeneres finishes off the top 10.