Has the American left fizzled out?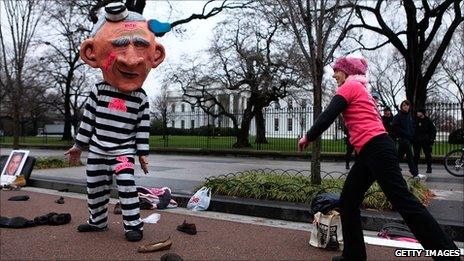 A surge in American conservative activism has been big news over the past year. But what has happened to the liberal left?
New York City has long been a thriving hub of left-leaning political activism.
During the Bush administration, the city teemed with disgruntled liberals, angry about the "war on terror", the invasion of Iraq and tax cuts for wealthy Americans - to name but three of their core causes.
A plethora of activist organisations set up shop in the early 2000s, including United for Peace and Justice, New Yorkers Say No to War and Code Pink.
These activists had clear adversaries - President Bush and his advisers, most notably vice-president Dick Cheney, deputy chief or staff Karl Rove and legal counsel John Yoo. And they had a clear priority - removing these "war criminals" from office and ending the conflicts abroad.
They wanted to take America back.
Some would say they did. Barack Obama won a landslide victory and Democrats gained overwhelming control over Congress.
Now, angry conservatives are demanding their country back, and, if Washington DC's conventional wisdom is to be believed, hardcore liberals are poised to hand it over in November's mid-term elections.
New York's progressive liberal community sees things a little differently.
Despite conservative accusations that Mr Obama is socialist, to progressives, he seems hopelessly moderate. They don't think their agenda has been represented in Washington.
"Supposedly we have a progressive president. We don't. Supposedly we have been in the majority in Congress but we've seen almost no progressive action at all," said one left-leaning New Yorker, B C Ashmall-Liversidge, at Drinking Liberally, a weekly social gathering in the Hell's Kitchen district.
Drinking Liberally was founded in New York in 2003 by activists seeking a space to vent their anger at the Bush administration and talk with like-minded lefties.
There are now over 300 Drinking Liberally chapters nationwide, as well as offshoots like Screening Liberally (a film club), Reading Liberally and Laughing Liberally (for aspiring progressive comics).
Co-founder Justin Krebs says attendance ebbs and flows. Privately, members recognise that their numbers have fallen off since the height of the anti-war protests and the later excitement around the 2008 election.
Many grassroots activists had worked passionately to elect Barack Obama and have suffered from divided loyalties since his election. Mr Krebs says he's torn between defending and criticising the Obama administration.
Most people in the progressive community say that they didn't truly believe the country - and its institutional and corporate power centres - would be transformed by one man.
Still, many harboured hopes that their dreams of a new kind of democracy and equality were close at hand.
They have been sorely disappointed, and in the process, their activism has splintered.
Dana Balicki, National Campaign Manager for Code Pink, a left-wing peace and social justice organisation that is not aligned with the Democratic Party, admits that the Obama presidency has made it harder for progressives to mobilise support for their causes.
"I would be lying if I said that everything was good and that we were just as strong as ever," she told the BBC. "I think that the progressive movement, especially the anti-war movement, has taken some hits since Obama took office."
The difficulties for progressives are numerous. Entrenched opposition to their agenda from vociferous conservatives and the misrepresentation of the Obama administration as socialist are among them.
Moreover, the issues in the public mind have changed.
While Code Pink is still focused on wars and drone attacks and New York's true socialist groups are mobilising around Islamophobia, America's vast centre is preoccupied with jobs, foreclosures, interest rates and the sluggish economy.
That has, to some degree, shifted progressives out of the national political dialogue.
Ms Balicki says it has taken until recently - more than a year-and-a-half into the Obama administration - for many progressives to feel really comfortable criticising the president.
For most of Mr Obama's first year or more in office, his supporters maintained their hope for change - a mindset Code Pink hoped to work with, not quash.
Now, some issues - notably the extended commitment of forces to Afghanistan and the perceived jettisoning of progressive priorities in the healthcare bill may be re-energising the left.
But any newfound vigour won't necessarily benefit Democrats in the forthcoming elections, according to Josh Botolsky who works for progressive "guerrilla marketing" company AGIT-POP Communications
"The impulse to work on mid-terms would be stronger if they thought there was a true progressive administration in Washington," Mr Botolsky says.
Mr Krebs says that some Drinking Liberally members would be happy for Democrats to lose a few seats in Congress if that resulted in a more genuinely liberal caucus on Capitol Hill - "an infuriated and invigorated" left.
The Obama administration isn't helping matters - the president, the vice-president and the White House press secretary have all been on record lately chastising liberals for "whining", or being too critical.
Progressive liberals are, however, working hard for candidates they see as worthy.
For example, progressive group Democracy for America raised $100,000 (£63,000) for Wisconsin Senator Russ Feingold - who is in a difficult race to hold his seat - with just one e-mail to their left-leaning supporters.
The very existence of Tea Party groups has also helped energise the left.
"The Tea Party reminded people on the left just how scary the right can be and how extreme the right can be," Mr Krebs told the BBC.
The left is slowly remaking itself in response. Around the country, attendance at Drinking Liberally events is spiking once more.
Mr Krebs says he has no doubt they will work hard to elect Mr Obama again in 2012. But perhaps they will do so with fewer stars in their eyes.