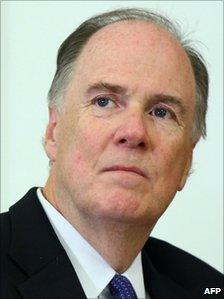 Thomas Donilon, who is to become the new national security adviser, replacing Gen James Jones, is not an unsurprising choice.
It is very common for the deputy national security adviser - the post Mr Donilon has occupied since January last year - to be promoted to the top job.
His involvement in politics goes back to the late 1970s when he worked in the Carter administration.
He also worked on Democrat Michael Dukakis's campaign in 1988.
During the Clinton administration, Mr Donilon was assistant secretary of state for public affairs and acted as chief of staff to Secretary of State Warren Christopher.
Before taking up his post as deputy national security adviser he worked as both a lobbyist - for mortgage firm Fannie Mae - and was a partner in a law firm.
He was a member of President Obama's "transition team", helping to vet State Department officials.
While he has been constantly tipped in the media to move up a rung, there may still be question marks over the appointment.
In his recent book, Obama's Wars, veteran journalist Bob Woodward quoted Defence Secretary Robert Gates saying that Mr Donilon would be a "disaster" as national security adviser.
Mr Gates has denied that, saying he has a good working relationship with Mr Donilon.
Mr Donilon is known as a friend and ally of Vice-President Joe Biden, having worked as an adviser to the Senate Judiciary Committee, when Mr Biden was chairman in the late 1980s.