FAA cites fire risk in bulk lithium battery shipments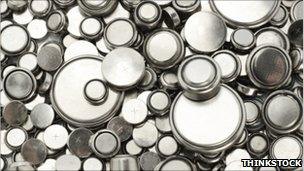 The US airline regulator has warned carriers shipments of lithium batteries may ignite if exposed to high heat in flight, risking a "catastrophic event".
The Federal Aviation Administration (FAA) said the batteries, widely used in consumer products, could ignite in a fire, overwhelming suppression systems.
The FAA said a US cargo flight that crashed last month near Dubai carried a shipment of lithium batteries.
The warning did not apply to batteries carried by passengers, the FAA said.
"Common metal shipping containers, pails and drums, are not designed to withstand a lithium metal cell fire," the agency warned in a statement, adding no containers have been tested or approved to mitigate the risk.
Bulk shipments of the batteries are already banned from passenger aircraft, the agency said.
The agency said a United Parcel Service flight that crashed near Dubai last month was carrying large quantities of lithium batteries.
"Investigation of the crash is still underway, and the cause of the crash has not been determined," the agency said. "We... believe it prudent to advise operators of that fact."
Dozens of incidents have been recorded in which lithium batteries ignited in flight, but it remains unknown what caused the fires.
Related Internet Links
The BBC is not responsible for the content of external sites.