Republican Paladino has 'no problem' with homosexuality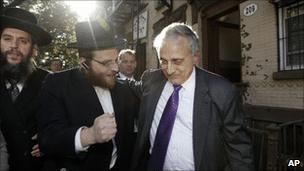 The Republican bidding to be New York governor is under fire after saying children should not be brainwashed into accepting homosexuality.
Hitting back on Monday, Carl Paladino said he had "no problem" with homosexuality and would hire gays.
But his initial remarks on Sunday came hours after eight people were in court over a brutal attack on three gay men in New York's Bronx borough.
His Democratic rival Andrew Cuomo accused him of "a stunning homophobia".
Speaking to NBC television on Monday, Mr Paladino described his earlier statements as reflecting his Catholic beliefs. He described anti-gay discrimination as "horrible".
But then he said children should not be "exposed" to homosexuality, especially at gay pride parades at which "they wear these little Speedos and they grind against each other".
"It's just a terrible thing," he told presenter Matt Lauer. "Why would you bring your children to that?"
The day before, Mr Paladino criticised Mr Cuomo for marching in a gay pride parade and told an audience at a synagogue in New York City: "That's not how God created us and that's not the example that we should be showing our children."
Earlier on Sunday, eight gang suspects arrested over the torture of two teenage boys and a man in an anti-gay attack appeared in court on hate crime charges.
Related Internet Links
The BBC is not responsible for the content of external sites.