Explosives found in bag in New York cemetery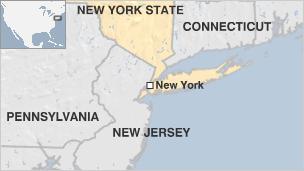 New York City authorities have removed a bag filled with explosives which were found in a historic Manhattan cemetery.
The military-grade C4 explosives did not have a detonator attached and posed no immediate danger, officials said.
Police Commissioner Raymond Kelly said the bag had been in the cemetery more than a year, and appeared to have been taken from a military installation.
Mr Kelly said the explosive material was the same as that used in the 2005 London transit bombings.
He said the explosives were not of a type commonly available for civilian purchase and could have been taken from a military stockpile "years ago".
Local media reported that police found a message, "I really hope one of you finds this", written in chalk nearby and a separate note signed "Jesus Christ".