Canada loses access to UAE base amid airline dispute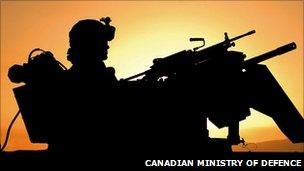 Canadian troops are to leave a military base in the United Arab Emirates that supports missions in Afghanistan, amid a dispute over airline landing rights, UAE officials say.
Camp Mirage is believed to be located at al-Minhad Air Base outside Dubai.
The facility is used by Canada and Nato allies as a logistical and supply site.
The base was expected to play a large role in pulling Canadian troops and equipment out of Afghanistan. Canada currently has about 2,900 troops there.
But Canada has said closing its operations at the base will not damage its contribution to Nato's mission in Afghanistan. The country has previously stated that its mission in Afghanistan will end in 2011.
The pullout from Camp Mirage, which could potentially damage diplomatic relations between the two countries, follows years of requests from the UAE to increase the number of long-haul air routes its carriers can operate to Canadian airports.
Canada's access to Camp Mirage was established under a years-old agreement, which expired in June, an official from the Gulf state told the Associated Press news agency.
The agreement was extended through September "in a show of goodwill" as Canada and the Emirates sought to reach a deal that included landing rights concessions, the official said, but negotiations had been unsuccessful.
Canada's main airlines have opposed an increase in flights for UAE carriers, fearing they could lose business as a result.
The base's exact location has never been officially acknowledged by the United Arab Emirates or Canada.