Case study: Florida father battles to save his home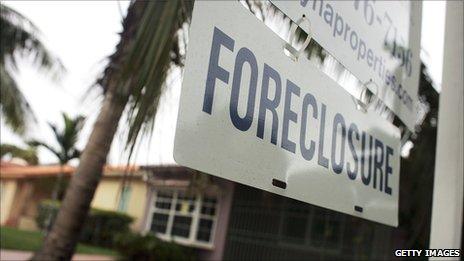 Calls are mounting for the US government to ban banks from repossessing the homes of people unable to pay their mortgages amid concerns over flaws in the foreclosure process. The White House says halting sales of foreclosed homes could prevent the housing market recovering. But what does this alleged malpractice mean for struggling Americans?
Kenneth Clinton, a 47-year-old father-of-two, is an unfortunate victim of the recession in more ways than one.
Until 2008, he worked happily as a project manager for a construction company. But his employers had invested their money with Lehman Brothers, the investment bank whose demise presaged the global financial crisis.
Soon after Lehman Brothers went under, Mr Clinton's company did too, and he lost his job.
Now he is facing the prospect of losing his family home in a bureaucratic nightmare of allegedly fraudulent paperwork and poor management of government programmes.
Mr Clinton and his wife, a local schoolteacher, bought their Florida home in 1996. He had grown up in Florida and hoped to raise his family there.
In 2005, Mr Clinton wanted to build an extension to his house and so refinanced his mortgage with Countrywide Home Loans - a name now synonymous with the sub-prime mortgage crisis in America.
After losing his job, Mr Clinton searched for months, even looking outside the state of Florida for work.
But after the housing bubble burst the American construction industry stalled. Florida was particularly hard hit.
After several months, Mr Clinton and his wife realised they could no longer afford their mortgage payments.
By then, the Obama administration had created a programme called Making Home Affordable, which helps people like Mr Clinton stay in their homes by offering incentives to banks to modify their mortgages.
Mr Clinton was accepted on to the programme and busied himself preparing the paperwork for Bank of America, who had bought out Countrywide and now owned his mortgage.
After the first application, the bank offered him a modified loan agreement that would have resulted in higher mortgage payments than before. Mr Clinton told the bank that would not work, and reapplied.
After a third application and dozens of phone calls, he was finally able to speak to a bank employee who told him that the latest modification offer - still much higher than he could afford - was based on his annual salary of $187,000 (£117,000). Mr Clinton was still unemployed.
"If I was making $187,000 I wouldn't need to be in this programme," Mr Clinton told the bank.
He still has no idea where that figure came from, but while yet another of his applications was being processed, the bank informed him that if he did not make the payments outlined in the loan modification offer based on his supposed salary, he would be kicked out of the programme.
So he complied. The Clintons scraped together the cash to make three payments. But it was not enough.
Mr Clinton was informed that because he had not made the payments on time - even though the paperwork was based on a bank error - he was no longer eligible for the Making Home Affordable programme. The bank was foreclosing on him, or repossessing his property.
In a desperate scramble to save his family home, Mr Clinton hired lawyers from Kaufman, Englett and Lynd (KEL), who discovered what is alleged to be fraud on behalf of the bank.
Even though Countrywide had been bought out in 2008, a vice-president at the now-defunct firm had signed the foreclosure documents in 2010.
Bank of America has since announced it is halting all foreclosures until it has more fully analysed the alleged fraud.
Neither Bank of America nor its lawyers responded to the BBC's requests for comment.
Roy Oppenheim, a Florida foreclosure defence attorney, says that while things like a signature seem like small problems, they are actually "very important and substantive procedures" that prevent "legal anarchy".
Many types of fraud have been uncovered in Florida, including false notarizations, documents being signed by the bank without having been read and banks foreclosing on loans that they have not officially purchased.
"This is no different from Bernie Madoff signing documents for trades that didn't occur," Mr Oppenheim told the BBC. "It is literally defrauding the legal system and it's done with impunity on a systematic basis."
Mr Oppenheim, who believes the foreclosure fraud scandal will have a severe and wide-ranging impact on the US housing market, says that banks - especially foreign-owned banks - are acting as though they are too big to fail and too big to be governed.
"They show a lack of respect for the laws of sovereign nations and complete disrespect for the law of particular states," he says.
Mr Clinton's lawyers see a bright side in the fraud investigation launched on Wednesday by all 50 state attorneys general for clients like Mr Clinton.
"I can use this behaviour against the bank as leverage and get that client a much better resolution," says Matt Englett, a partner at KEL. "It really helps to pressure the bank into some kind of settlement."
Which means that people like Mr Clinton get to stay in their homes for now.
But it is not just people whose homes may have been fraudulently repossessed who are feeling the effects of this issue.
New homeowners who have unknowingly purchased the homes in question may also find themselves out on the street if the original owners are granted their properties back.
Such people should be covered by title insurance, but that will not cover the increase in property value as a result of any improvements new owners make to their properties. Mr Oppenheim worries that the title insurers themselves may not be prepared for the wave of claims that seems imminent.
But neither Mr Englett not Mr Oppenheim thinks that a moratorium on foreclosures would be a good idea. Mr Englett says such a ban would have a "devastating effect" on a real estate market that Mr Oppenheim describes as already in a state of "paralysis".
In the meantime, Mr Clinton is hopeful that he will keep the home his two children have grown up in. And, if the construction market improves, he has a job offer to work on a new development.
But even that silver lining is, like much of Mr Clinton's life, held hostage to economic conditions well outside of his control.