Armenians face US health care scam charges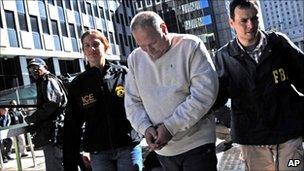 US officials have charged 73 people over what is thought to be the largest ever attempt to defraud the country's medical insurance system.
Prosecutors say a network of Armenian gangsters and their associates set up fake clinics using stolen identities to make false claims for treatment.
Investigators said more than $35m (£22m) was paid out.
A US Attorney said the scheme's scope and sophistication put the traditional mafia to shame.
The group, most of whom are of Armenian origin, are accused of setting up some 118 clinics across the US, most of which existed only on paper or were "nothing more than shams, shells, and storefronts", said US Attorney Preet Bharar.
They allegedly stole the identities of real doctors and beneficiaries of Medicare - the US federal insurance programme for the elderly - and "submitted bill after bill for treatment that no doctor ever performed and that no patient ever received," he added.
In addition, the gang were accused of carrying out "a raft of rackets, extortion, credit card fraud, identity theft, immigration fraud, and even the distribution of contraband cigarettes and stolen Viagra".
Investigations began after the personal details of 2,900 Medicare patients in New York were reported stolen, the Associated Press news agency reports.
Much of the paperwork involved also raised suspicion by showing inconsistences such as doctors specialising in dermatology giving heart examinations and ear, nose and throat specialists performing pregnancy ultrasounds, said AP.
Most of the accused were arrested during raids in New York City and Los Angeles on Wednesday morning, but there also were arrests in New Mexico, Georgia and Ohio. The 73 people charged are accused of racketeering and related offences.
Officials say some of the proceeds from the operation were couriered back to Armenia in cash.
The alleged leader of the gang, Armen Kazarian, is now in jail in Los Angeles. He was described by officials as equivalent to a mafia godfather.
"When it comes to making money illegally, this Armenian-American group puts the traditional mafia to shame," said Mr Bharar.
"The reach of this organisation stretches clear across the country and well beyond our shores.
"So in terms of profitability, geographic scope, and sheer ambition, this emerging international organised crime syndicate would be the envy of any traditional mafia family," he said.
Related Internet Links
The BBC is not responsible for the content of external sites.