Soldiers tell of Fort Hood rampage at Maj Hasan hearing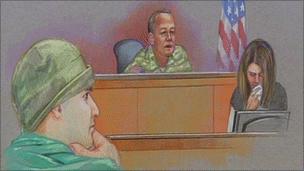 Soldiers who survived a deadly shooting rampage at Fort Hood army base in Texas have begun giving testimony.
US Army psychiatrist Maj Nidal Hasan is accused of killing 13 comrades and wounding 32 in the 5 November attack.
In Texas, Specialist Alan Carroll told a preliminary hearing that he was shot but aided a comrade rather than flee.
The hearing is to determine whether prosecutors have enough evidence to try Maj Hasan. The shooting was the worst of its type at a US military base.
Witnesses have described a scene of horror, with soldiers leaping out of windows and huddling under piles of bodies to escape the bullets. They also described initial confusion over whether they were experiencing a real attack or a training exercise.
Asked if the gunman was seated in the courtroom, Pte First Class Najee Hull pointed to Maj Hasan, who was sitting in the military court in a wheelchair, paralysed from the chest down after being shot by police during the attack.
"That's him," Pte First Class Hull said.
Spc Carroll said he had been shot in the arm but concentrated on aiding a seriously wounded comrade.
"The only person I could see from ground was Pte First Class [Aaron Thomas] Nemelka," Spc Carroll told the hearing via a video link from Kandahar, Afghanistan. "I told him it was not training and to get down."
Spc Carroll said he was then shot in the back and leg and had a clear path to the exit, but his training precluded him from leaving Pte Nemelka behind.
"I'd been told never leave a fallen comrade," he said. "That's what was going through my mind. I needed to get out, but I needed to get him out with me."
Shot in the upper chest, Pte Nemelka was killed.
On Wednesday, survivors of the attack testified that Maj Hasan had shouted "Allahu Akbar!" - Arabic for "God is Great!" - before opening fire on comrades at Fort Hood's crowded Soldiers Readiness Processing Center, where troops get medical check-ups before deploying abroad.
The hearing is expected to last three weeks. Maj Hasan could face the death penalty if convicted at an eventual trial.