US town offers house free to anyone who will move it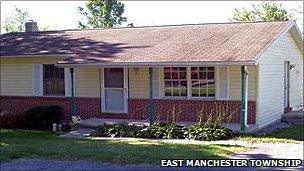 A Pennsylvania town has offered prospective homeowners a bargain: a free house, if they take it away.
East Manchester acquired the three-bedroom ranch-style house for the land underneath, which it needed for future expansion of municipal facilities.
Officials deemed it cheaper to give the house away than raze it or refit it for rental. Anyone who can move it and clear the land can have it, they said.
"The house really isn't A-1," said public works director David Gentzler.
"We don't want to get into the rental business," Mr Gentzler told the BBC. "In order to make the house liveable it would have needed more money than we felt was reasonable to fix it up.
"If somebody takes it we will save thousands."
One town official estimated the house's value at about $60,000 (£37,500).
East Manchester, located about 75 miles (121km) north-east of Washington DC, has grown in population to about 7,000, from about 5,000 10 years ago.
Related Internet Links
The BBC is not responsible for the content of external sites.