Canada air force commander pleads guilty to murders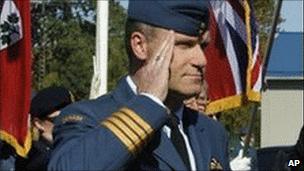 The commander of Canada's largest air force base has pleaded guilty to the murder of two women and the sexual assault of two others.
Col Russell Williams once acted as pilot for Queen Elizabeth II and was in charge of Base Trenton in Ontario - Canada's busiest air force hub.
He also admitted a string of counts of breaking and entering. Prosecutors said he had stolen women's underwear.
He faces an automatic life sentence with no chance of parole for 25 years.
One woman was found dead in her house in November 2009. The other went missing in January this year.
Williams was arrested on 7 February.
The murder victims were Marie Comeau, a 38-year-old corporal, who lived in Brighton, Ontario, and Jessica Lloyd, 27, a resident of Belleville, Ontario.
The colonel's arrest came after police canvassed motorists for information.
Williams was accused of burgling 47 homes, starting in 2007. Most of the targeted homes were in the same street, with one home burgled nine times.
Police seized a hoard of women's underwear from Williams's home in Ottawa.
In an agreed statement of facts read to the court, the details of Williams's crimes were revealed.
"Given the seriousness of charges, it's important for the court to have a full account of the facts," said prosecutor Lee Burgess.
"These facts will be extremely disturbing."
Photographs - taken from Williams's computer and displayed in court - showed the killer wearing stolen underwear from victims. Some of the underwear belonged to young girls.
The underwear had been carefully stored in boxes and bags at the Ottawa home where Williams lived with his wife.
Wearing a dark suit and grey button-down shirt, Williams replied to each charge with "Guilty, your honour".
Prosecutors said only 17 victims had reported to police that their homes had been burgled, with details of 61 other burglaries only being revealed after Williams's arrest.
Most of the burglaries were at night and Williams may have worn military uniform in at least one.
A biography on the Canadian Air Force website said Williams had enrolled in the Canadian Air Force in 1987 and gained his wings in 1990.
The air force commander oversaw logistical support for missions to Haiti and Afghanistan.
"He was able to lead an elaborate double life and was able to keep it successfully concealed," said a senior officer who once promoted Williams, retired Lt-Gen Angus Watt.