Four guilty of plotting attacks on New York synagogues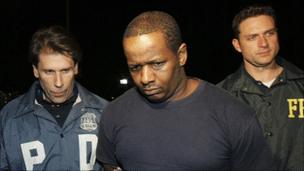 Four men have been convicted in New York of plotting to blow up synagogues and shoot down military aircraft after being caught in a 2009 FBI sting.
The men were found guilty after the jury heard an informant's testimony and recordings of them discussing the plot.
James Cromitie, David Williams, Onta Williams and Laguerre Payen were caught after planting what they thought were real bombs at synagogues in the Bronx.
Federal prosecutors said the men posed no danger during the sting operation.
Defence lawyers had described the case as a fiction produced by the FBI.
The convicted men also intended to target military planes at the New York Air National Guard base at Stewart Airport, 60 miles (85 km) north of New York City, prosecutors said.
In fact, they had been under surveillance after FBI informant Shahed Hussain had met Cromitie, the alleged ringleader, at a mosque north of New York City.
Payen is Haitian, the others are American citizens.
Mr Hussain, a 53-year-old Pakistani immigrant, had posed as a member of a Pakistani terror group eager to fund attacks in the US.
Cromitie's lawyer Vincent Briccetti told jurors Mr Hussain was "a liar" who had mislead the jury.
"Without the help of the FBI, Cromitie wasn't going to do anything," he said.
But in video and audio recordings, the jurors heard Cromitie ranting against Jews and saying he wished to exact revenge against the US for military aggression in the Middle East.
The men were also seen in a video practicing with a shoulder launched missile.
"The FBI did exactly what it's supposed to do - it caught four dangerous men before they could do any real harm," Assistant US Attorney David Raskin said, according to the Associated Press.
"Ordinary people wouldn't even dream of what these defendants did."