US elections 2010: House races to watch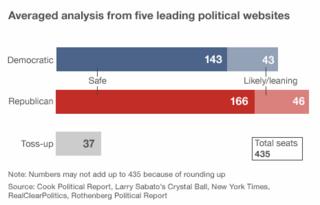 Experts are predicting net gains of 50-60 seats for the Republicans in the House of Representatives - but admit that the figure could be much higher, or much lower.
As Nate Silver of the New York Times' FiveThirtyEight blog puts it: "Relatively few individual districts are certain pick-ups for the Republicans."
More than 100 seats in the 435-seat chamber are considered to be in play.
Here are 10 races to watch:
Pennsylvania 3rd District
Democrat Kathy Dahlkemper took the district by 2% in 2008, but polls this year show her trailing against car dealer Mike Kelly. It's a classic battleground district, capable of swinging either Republican or Democrat. This year the climate favours the Republican candidate, and Dahlkemper's votes for health care reform and the stimulus package are not working to her advantage.
Texas 17th District
Ten-term Democrat Chet Edwards has sustained his political career in a heavily Republican district by maintaining a centrist voting record. This year he is one of a number of Democratic candidates emphasising their independence from the Democratic Party. But it may not be enough to help him defeat his Republican opponent, businessman Bill Flores. Larry Sabato's Crystal Ball lists the seat as "leaning Republican".
Colorado 3rd District
John Salazar, the brother of Interior Secretary Ken Salazar, is running against a Republican opponent he beat by 25% in 2006, Scott Tipton. In 2008 Mr Salazar's margin, against a different opponent, was only slightly lower - 24%. However, this time it's a close race, widely regarded as a toss-up. The general climate is far worse for the Democrats in 2010 - and Tipton, backed by the Tea Party, has been endorsed by Sarah Palin.
Louisiana 2nd District
When he won this seat in 2008, Joseph Cao became the first Vietnamese-American elected to Congress - and the first Republican to represent New Orleans since the 19th Century. His opponent on that occasion was nine-term Democratic candidate William Jefferson, whose reputation had been tarnished by the discovery of $90,000 in his freezer. This year, the district's mainly African-American voters are thought more likely to pick 37-year-old Democrat Cedric Richmond.
California 47th District
Another Vietnamese-American Republican, Van Tran, has been seen as a "dark horse" with an outside chance of unseating popular California Democrat Loretta Sanchez. The district often votes for Republican governors and presidents - however Sanchez, first elected in 2002, has never yet scored less than 60% of the vote. Larry Sabato's Crystal Ball sees her as the likely winner.
Ohio 18th District
Democratic incumbent Zack Space is another candidate who is trying to distance himself from the policies of the Democratic Party, in order to survive. He's caught between a rock and a hard place. Unions are encouraging voters to "Skip a Space" on the ballot, because he failed to vote for health care reform. Meanwhile, Republicans are attacking him for voting for the stimulus package.
North Dakota
Democrat Earl Pomeroy has won nine terms in this conservative state but has never faced a tougher fight. Polls suggest a tight race with Republican Rick Berg. Larry Sabato's Crystal Ball lists the seat as "leaning Republican".
Minnesota 6th District
Republican congresswoman Michele Bachmann was placed by the Daily Beast top of a list of "wingnuts" in the House of Representatives - for calling President Barack Obama "anti-American" for example. She's been described as a Tea Party leader before the movement even had a name. She has broken Minnesota fundraising records and is likely to win a third term, but Tarryl Clark, a Democratic state senator, has an outside chance of victory.
Florida 8th District
First-term Democrat Alan Grayson won a shock victory in 2008, in a district that has been Republican since 1982. He endeared himself to left-wing blogs when he suggested the Republicans change their name to the "selfish party" on the grounds that their health care plans help people to "die quickly". He also features on the Daily Beast "wingnut" list, for being a "proud practitioner of the politics of incitement".
Hawaii 1st District
Republican Charles Djou won this seat, in the state where Barack Obama lived as a child, facing two Democratic opponents in a special election earlier this year. On 2 November he faces just one - state senator Colleen Hanabusa - and his chances of victory are reduced. However, recent polling suggests he may hang on.