JetBlue air steward Steven Slater pleads guilty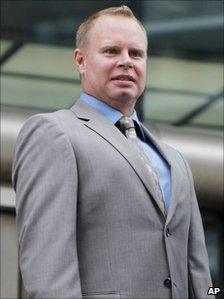 A US flight attendant who caused a media frenzy by quitting his job and jumping out of a plane using an emergency exit slide has pleaded guilty to attempted criminal mischief.
Steven Slater will now undergo at least a year of counselling and substance abuse treatment.
"At the end of the day, I'm a grown-up, and I must take responsibility for my actions," the 39-year-old said.
Mr Slater quit after a row with a JetBlue Airways passenger in August.
Outside a New York court, Mr Slater thanked his attorney, prosecutors in the case, his mother and his partner, adding that the public interest in his case had surprised him.
Mr Slater pleaded guilty before Judge Patricia Hirsch to second-degree criminal mischief, a felony charge, and fourth-degree attempted criminal mischief, a misdemeanour.
If Judge Hirsch is satisfied with Mr Slater's counselling and treatment, the felony will be dismissed, leaving only the lesser charge. But if Mr Slater does not complete the treatment, he faces one to three years in jail.
After landing at JFK International Airport on a flight from Pittsburgh on 9 August, Mr Slater cursed at passengers on a loudspeaker and leaped out of the plane with several cans of beer.
Mr Slater's actions made him a "cult hero" to some, with his picture appearing in countless newspapers around the globe. A number of online social network groups on sites like Facebook also formed around his story.