Shots fired at US Pentagon cause minor damage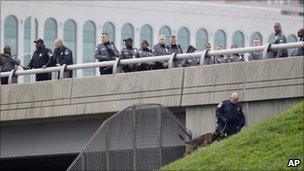 Shots were fired at the Pentagon, hitting the building and causing minor damage, US officials have said.
Police temporarily closed some roads and pedestrian entrances after reports before dawn that up to seven shots had been fired near the south entrance.
A sweep of the defence department headquarters found two windows had been shattered. There were no injuries.
Pentagon security chief Steven Calvery said he considered the incident to be "a random event".
The shots were probably fired from a high-velocity rifle, Mr Calvery, director of the civilian Pentagon Force Protection Agency, told a Pentagon news briefing.
State, federal and local investigators were working together, he said. They are expected to carry out ballistic tests.
The two windows shattered were not penetrated by the bullets, officials said.
Roads and pedestrian entrances to the Pentagon were re-opened soon after the alert was raised. Part of a highway near the Pentagon was later closed as the investigation continued.
Bullet holes were also discovered on Monday in the windows of the National Museum of the Marine Corps, about 30 miles (50km) south of the Pentagon.
Pentagon spokesman Marine Col Dave Lapan said he did not know if there was any connection between the two incidents.
Tuesday's investigation at the Pentagon comes about seven months after a gunman shot and wounded two security officers at a security checkpoint into the building.
The 36-year-old shooter, John Patrick Bedell, was shot by police and died hours after being admitted to a hospital in critical condition.
Security measures at the Pentagon were tightened following the March shoot-out.
Related Internet Links
The BBC is not responsible for the content of external sites.