Full horror of Canada pilot's murders revealed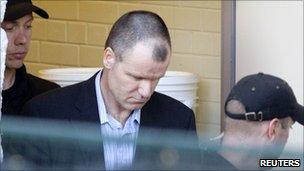 The horrific details of murders committed by a senior Canadian air force officer have been revealed.
Col Russell Williams is due to be sentenced for the murder of two women and the sexual assault of two others.
Williams, who had been commander of Canada's largest air force base and once acted as pilot for Queen Elizabeth II, pleaded guilty to all charges.
The court heard he had videotaped and photographed sexual assaults on two victims before killing them.
His videotaped confession was played to the court on Wednesday. Williams initially denied the charges before being confronted with evidence and admitting his crimes.
Williams's first victim was Marie Comeau, a 37-year-old corporal he had met while she acted as an attendant on a military flight, prosecutors said at his sentencing hearing on Tuesday.
Having access to her rota, Williams carried out a test burglary in November last year while she was away to check that she lived alone.
He then returned a week later, and was surprised by Ms Comeau while waiting in her basement for her to fall asleep.
He used a torch to beat her, before sexually assaulting her. He taped over her mouth and nose, continuing to take photographs as she suffocated, the court heard.
Before she died, prosecutor David Thompson said she had told her attacker: "Have a heart, please. I've been really good. I want to live."
Williams spotted his second victim while driving near a cottage he owned.
He entered Jessica Lloyd's home on 28 January, having waited until his victim was asleep. He tied Ms Lloyd up, put tape over her face and repeatedly raped her, while taking photographs.
A day and a half after starting the attack, Williams strangled his victim with a rope after she had pleaded for her life.
Slumped in his chair while the evidence was revealed to the court, Williams bowed his head.
He faces a life sentence without the possibility of parole for 25 years.
Williams has also admitted a string of counts of breaking and entering.
He would take underwear from teenage girls and young women, carefully cataloguing it back at his home and photographing himself posing in the garments.
The colonel's arrest came after police canvassed motorists for information. Police then seized a hoard of women's underwear from Williams's home in Ottawa.
A biography on the Canadian Air Force website said Williams had enrolled in the Canadian Air Force in 1987 and gained his wings in 1990.
The air force commander oversaw logistical support for missions to Haiti and Afghanistan.