Jordanian gets 24 years for Dallas bomb plot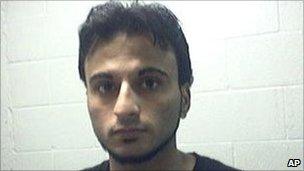 A US court has sentenced a Jordanian man to 24 years in prison for attempting to blow up a skyscraper in Dallas, Texas.
Hosam Smadi, aged 20, pleaded guilty in May to one count of attempted use of a weapon of mass destruction in 2009.
Just before being sentenced in Dallas, Smadi addressed the court, saying he was "very sorry for my actions".
Smadi was arrested in September 2009, after he was ensnared in an undercover FBI operation.
"I'm so ashamed for what I did. I could not live with myself if I had hurt anybody," he told the court in Dallas on Tuesday.
He also renounced al-Qaida, calling its leader Osama Bin Laden "a bad man".
Smadi earlier admitted leaving what he thought was a truck bomb in a garage beneath the 60-floor Fountain Place building in 2009.
He said he then used a mobile phone to activate the bomb.
The FBI says the public was never in danger as Smadi had been under constant surveillance and a decoy device had been supplied to the suspect.
He was held immediately after he tried to set off the device.
Smadi had faced up to life in prison, but his sentence was reduced because of his guilty plea.
Related Internet Links
The BBC is not responsible for the content of external sites.