Republicans hunt symbolic victory in Obama's old seat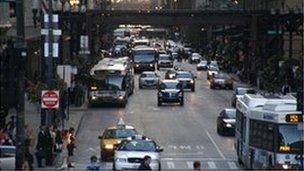 In a town practically owned by the Democratic Party, I find the Republicans in remarkably good cheer.
At an English bar, on Chicago's La Salle Street, members of the Illinois Republican Party are holding a meet and greet for their newest candidate.
Unfortunately Patrick John Ryan isn't here.
Behind the mock disappointment, no-one is expecting him to show up.
That's because Mr Ryan is a "shill" candidate, an employee of the Chicago Department of Streets and Sanitation, nominated by long-serving Illinois House Speaker, Democrat Michael Madigan, to run against him in a district so safe the real Republicans don't even bother.
Welcome, as Pink Floyd might say, to the machine.
"That is kindergarten behaviour compared to what we see," says Illinois Republican Party Chairman Pat Brady.
"It's not as bad as it used to be, but the machine still exists, and that's what we're fighting against. And I think that's what people are really fed up with."
It's the machine that produced two Mayor Daleys, disgraced former Illinois Governor Rod Blagojevich, and one Barack Obama.
Mr Brady calls Illinois a one-party state.
It's solidly Democratic and Mr Obama won here by a landslide in 2008.
But the Republican chairman relishes the thought that Illinois could be the most symbolic victory on election night.
"We'd love to get Barack Obama's old seat," he says. "We'd love to get Joe Biden's in Delaware, and I think we're going to get Harry Reid's seat in Nevada," Mr Brady says.
He calls that the Republicans' "trifecta" - a triple whammy.
With the polls putting Republican Congressman Mark Kirk in a near dead heat with Democratic state treasurer Alexi Giannoulias and the governor's race also a toss-up, this is probably the Republicans' best chance in a couple of decades to make inroads in the fifth most populous state in the union.
The Senate race is nasty and negative. Republicans are trying hard to suggest that Mr Giannoulias is cut from the same tainted cloth as the former governor.
One attack ad alleges the Democratic candidate is linked to the mob, citing revelations that his family's bank made loans to organised crime figures
"He'd make Tony Soprano proud," the ad says.
For his part, Mr Kirk has had to deal with accusations that he embellished his military record.
In a city where financial and personal peccadilloes are woven into the political fabric, neither offence seems particularly remarkable.
Voters may simply have to hold their noses a little more firmly as they cast their ballot.
But the continuing fallout from the corruption case against Mr Blagojevic, the man accused of trying to sell the president's old seat, probably means the Democratic party machine has rather more than usual to answer for.
Nor is their case being helped by the White House's failure to communicate with the electorate.
"I don't think the administration did the greatest job of selling [its policies] as a kitchen table issue," says Jaimey Sexton, who runs telephone campaigns for Democratic candidates.
"In this economy and this political environment, everything a candidate needs to talk about has to relate to something that happens on the kitchen table."
One thing that could make a difference in the president's political back yard is, of course, the president himself.
Barack and Michelle Obama have both campaigned for Mr Giannoulias.
In America's toxic, polarised political environment, not every Democratic candidate wants to share the stage with Barack Obama.
But in Chicago, the president still has plenty of admirers.
"People here are extremely prideful when it comes to Obama," says one local resident, sitting on a low wall outside City Hall.
But back at the English bar, Republicans are raising their glasses to their invisible candidate.
For all the fun and laughter, this is a party dead set on scoring one of November's biggest upsets.
Related Internet Links
The BBC is not responsible for the content of external sites.