US presidential nuclear codes 'lost for months'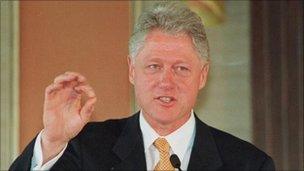 The codes used by the president to launch a nuclear strike were mislaid for months during the Clinton administration, the former highest-ranking US officer has said.
Ex-chairman of the joint chiefs of staff Gen Hugh Shelton made the claim in a new book.
The codes are usually held by an aide who remains close to the president.
Gen Shelton said there was an incident where an aide said the codes had been lost.
They were immediately replaced, but an internal inquiry was conducted.
Gen Shelton said the incident had taken place "around the year 2000".
Under the procedures, an official was sent every month to check the codes, and that they were replaced every four months with new codes.
According to Gen Shelton's book, Without Hesitation, an official had gone to check one month and been told by the aide that the codes were on the president's person but that he was in an important meeting and could not be disturbed.
A different official went to do the same check a month later and was told a similar story. When it came time to change the codes, an aide admitted they had been missing for months.
Gen Shelton said it was apparent that the president had not had the codes and that he had been unaware that an aide had lost them.
The general described the episode as a "comedy of errors".