Penthouse magazine founder Bob Guccione dies aged 79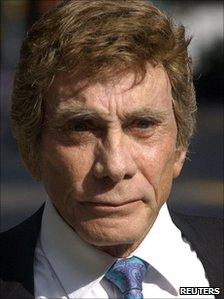 The founder of Penthouse magazine, Bob Guccione, has died in Texas at the age of 79.
Mr Guccione had suffered from lung cancer for several years.
He launched Penthouse in Britain in the 1960s as a rival to Playboy and estimated that the magazine earned $4bn (£2.5bn) while he was the publisher.
Mr Guccione considered himself an artist and over the years took many of the photos for Penthouse himself.
The trademark of his brand of soft porn was to have the naked model looking away from the camera - a style Guccione grandly called the "philosophy of voyeurism".
Founded in Britain in 1965, Penthouse made headlines across the Atlantic two decades later when it published unauthorised nude photos of Vanessa Williams, the first black Miss America.
The controversy forced her to relinquish her crown, but the issue sold nearly six million copies and helped make Mr Guccione one of America's wealthiest men.
But he squandered a $400m fortune on poor investments in the gambling and film industries.