China's rapid economic growth slows in third quarter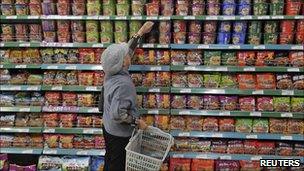 China says its economy has maintained robust growth in the third quarter of 2010, albeit at a slightly lower rate.
Official figures show a drop from just over 10% growth to 9.6%, still far ahead of any other major economy.
The Chinese government has been taking measures to cool a credit boom in order to achieve more sustainable growth levels.
Meanwhile consumer prices rose at the fastest pace in nearly two years in September, official data showed.
For several months China's government has been withdrawing stimulus measures it used to get China through the economic downturn.
Access to credit has been curbed and public spending on infrastructure scaled back, reports the BBC's Chris Hogg in Shanghai.
But this latest data suggests other drivers of economic growth are now taking up the slack.
Domestic consumption remains strong and investment in the private sector is robust.
One concern though for policymakers is inflation.
Consumer prices rose 3.6% year on year, the fastest increase since October 2008, with prices for food - the item poorer Chinese spend most of their income on - rising by more than 6%.
A surprise interest rate rise on Wednesday is being seen as a sign that the government wants to tackle inflation to bring it back towards its target of 3% by the end of the year, our correspondent says.