Pilot Russell Williams's graphic murders shock Canada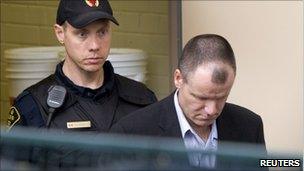 The sentencing of the former commander of Canada's largest air force base to life in prison with no hope of parole for 25 years follows four days of graphic and disturbing evidence about the brutal murders of two women.
The details of Col Russell Williams' vicious murders and sex crimes have proven deeply distressing for those attending the hearings. They have also led to an anguished debate here about some of the more explicit media coverage.
The judge said the communities in eastern Ontario where the crimes had occurred had lost their innocence, now living in fear because of these depraved acts.
Williams, a decorated officer, pleaded guilty to two counts of first-degree murder, two sexual assaults and 82 burglaries.
The 47-year-old was a rising star in the Canadian military before being charged in February with the killings of 27-year-old Jessica Lloyd and 38-year-old Corporal Marie-France Comeau.
As well as being in charge of the busy armed forces base, he often served as a pilot for the prime minister and other VIPs, even flying Queen Elizabeth and Prince Phillip on their 2005 visit to Canada.
It seems no-one suspected Williams's double life, in which he obsessively indulged his fetish for stealing and wearing women's underwear, eventually escalating to brutal sexual assaults and murder.
He meticulously recorded his crimes, filling up two computer hard drives with photos, videos and diaries.
Williams was arrested in Quinte West, eastern Ontario, days after the disappearance of his second victim, Jessica Lloyd, in January 2010.
Investigators matched tyre tracks in the snow outside Ms Lloyd's home to his vehicle and other prints to his boots. Under interrogation, he confessed to both murders and his other crimes, leading police to Ms Lloyd's body, which he had dumped in a wooded area.
Edited tapes of the police interview were shown to the court on Wednesday. Showing little emotion, Williams is seen saying that his main motivation in confessing is to minimise the impact of a raid and search on his wife.
On Tuesday, the court heard the horrific details about the last hours spent by Williams's two murder victims.
Last November, Williams broke into Cpl Marie-France Comeau's home, beat her and brutally raped her several times while photographing and videotaping his crimes. He ignored her pleas to spare her life and suffocated her.
As Cpl Comeau's commanding officer, Williams later wrote a letter to her father offering condolences for her death.
His second murder victim, Jessica Lloyd, was also confined, bound, tortured and repeatedly raped. She was kept alive for more than 24 hours before being killed.
The court heard that at one point during her videotaped ordeal, Ms Lloyd pleaded: "If I die, will you make sure to let my mom know that I love her?"
That left many in the court sobbing. Jessica Lloyd's mother, Roxanne, who had arrived in the room clutching a framed photo of her daughter, later ran out in tears.
The following day, Mrs Lloyd delivered her victim "impact statement" to an emotionally-charged courtroom and before Williams, who showed no emotion himself.
She described herself as a "broken woman" trying to cope with overwhelming grief.
"There is no punishment that could make this better for me. No sentencing will make this sorrow disappear," she told the court.
"Why did he do this to my funny, caring, thoughtful daughter?"
Mrs Lloyd said that she would have gladly died in her daughter's place.
Jessica Lloyd's brother Andy called Williams "pure evil that took her from us".
Journalists, lawyers and other professionals involved in the hearings say they have been deeply affected by what they have heard.
"I've been doing this job for 20 years," government prosecutor Lee Burgess said outside the court. "This is the most awful case I've ever been involved in."
It seems there may have been too much detail available in the media for the Canadian public too. Newsrooms have struggled over the best way to tell such a depraved story, with mixed results.
One of the most controversial images, splashed over the front page of the Toronto Star and other newspapers, was a photo taken by Williams of himself, posing in pink, stolen women's lingerie.
Many Canadians reacted with disgust, including those in the city where the trial was being held.
"It's become a media circus," said one local resident near the courtroom in Belleville
"We went to the store to get flowers and there on the front counter is Williams in a bikini. How do I explain to my six-year-old what that's all about?"
Others have questioned the amount of graphic detail released and reported by the media about how the victims were tortured, particularly in light of Williams' confession and guilty plea.
But one of the country's leading criminal and constitutional lawyers Clayton Ruby, argues that hearing all the evidence, no matter how unpleasant, is still essential.
"The prosecutors are looking ahead to 25 years from now, when Williams is eligible for parole for the first time and argues for his release," said Mr Ruby.
"They need a record that is under oath and formalized in a court proceeding, so that when people are no longer around to tell their story, this is something more than a police file. This is a public record."
Mr Ruby said it was also important for the public to know that no details were being hidden from them.
The arrest and prosecution of such a senior, decorated officer, for such lurid crimes, has sent shockwaves through the military establishment.
The Canadian Armed Forces is considering the unprecedented action of stripping Williams of his rank. He is also expected to be dishonourably discharged from the force.
But there is widespread anger here that Williams will also be entitled to a military pension estimated at $60,000 a year. Analysts say that taking that away from him would be much more difficult and require an act of parliament.