Fox News v MSNBC: Mid-term election battle of TV titans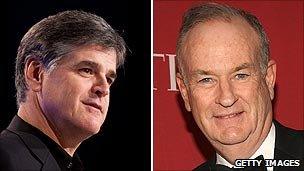 Fox News is famous for its iconoclastic conservative take on US politics, while rival MSNBC is seen by some experts as becoming its liberal equivalent. But do cable news stations influence election campaigns?
For the best part of a decade Fox News has been the dominant US cable news network.
Its blend of jaunty news during the day, and colourful conservative pundits - like Sean Hannity, Bill O'Reilly and Glenn Beck - during the evening has proved a popular formula.
Beck has gained notoriety. His eponymous show on Fox News, where he can weave together targets as diverse as Woodrow Wilson, the Black Panthers and Goebbels in a heady hour-long polemic, is watched by 2.5 million people, despite being hours before primetime. It beats its rivals on the other cable news networks more than 4-1.
Fox News's dominance has caused concern for some on the other side of the political divide.
A year ago, White House communications director Anita Dunn rounded on the network, saying: "Fox News often operates almost as either the research arm or the communications arm of the Republican Party.
"Let's not pretend they're a news network the way CNN is."
The revelation in August that Fox News's parent company, News Corp, had donated $1m to the Republican Governors' Association seemed to be grist to the mill.
Fox News maintains that, whatever the tone of its evening punditry, its news is "fair and balanced".
"During prime time you get Sean Hannity and Bill O'Reilly," says Scott Collins, author of Crazy Like a Fox: The Inside Story of How Fox News Beat CNN. "It is highly opinionated and very much like talk radio. The rest of the day Fox is more like a conventional cable news network. It doesn't have the partisan edge."
The media analysts suggest Fox News has tapped into a constituency of conservatives who felt alienated from much of the rest of the news media.
"Fox News is for Americans who have felt for years that the media are dominated by the East Coast liberal elites that make decisions that don't reflect the rest of America," says Collins.
For all of Fox News's alleged partisanship, there are some analysts who feel MSNBC is going the same way - turning into a liberal version of Fox News.
"It's definitely there," says Prof Kerwin Swint, author of Dark Genius: The Influential Career of Legendary Political Operative and Fox News Founder, Roger Ailes.
"You can see their progression of following the lead of Fox News."
As MSNBC has gone down the road of appearing strongly liberal-aligned, it has prominently-positioned hosts that seem equivalent to their brash Fox News counterparts.
Rachel Maddow and Keith Olbermann are perhaps the most notable.
"Rachel Maddow is just serious enough to be a prime time news host," says Collins. "But she walks the line, reading things with a smile and an arched eyebrow.
"She's very appealing on television. She was a new face."
Olbermann has also had a successful entry to primetime presenting.
He is the mirror image of Bill O'Reilly, says Collins.
"O'Reilly is your right-wing blowhard, Olbermann is a left-wing blowhard."
But while it might seem that Fox News and MSNBC are lined up against each other, can they really have any effect on elections?
But the numbers watching cable news are still a tiny percentage of the viewing public. Median prime-time viewing was only 3.88 million and daytime 2.16 million.
"One of the things we know about the impact of news media and television, is it rarely changes people's minds," says Prof Paul Freedman, from the University of Virginia, who studies the influence of mass media on elections.
But a more nuanced effect can take place.
"It rarely turns a Democrat voter into a Republican voter but what they can do is set the agenda and shape people's perception of what issues are the most important and give people information about what should matter," says Prof Freedman.
"They can shift the mix of ingredients that people draw upon in cooking up a vote choice or deciding whether it's worth going to the booth."
There are concrete examples of agenda setting in and outside the campaign period, says independent political consultant Laura Schwartz, former political analyst at Fox News and former White House director of events in the Clinton administration.
"[Rolling] news absolutely drives campaigns," she says. "They can take a story and run with it. They can talk about it every moment of every day versus the olden days where you had 30 minutes every night."
Out of the election cycle, the case of Shirley Sherrod shows how politicians are influenced by the power of the rolling news stations. The agriculture official was forced to resign after a heavily-edited video publicised by a blogger wrongly suggested she had not helped a farmer because he was white.
"Sometimes in the urgency to react bad decisions can be made," says Ms Schwartz.
But while the rolling news stations can dominate the agenda and force politicians to discuss things they had rather not discuss, they do not swing elections.
"Part of the reason we don't see persuasive effects is that people get to choose media outlets - people are sorting themselves into different cable news outlets," says Prof Freedman.
Fox News was cited by 43% of Republicans but only 13% of Democrats. The partisan split was less pronounced on MSNBC - 8% of Republicans and 12% of Democrats - but it might be argued that the network had shifted most noticeably in the past two years.
Movements in the popularity of the cable news networks might track shifting political alignment, says Prof Swint.
"In 2008 Fox News viewership was down [by comparison with its rival MSNBC] from 2006. Now it's up again. It follows voter moods."
According to Nielsen, the average viewing figure across prime time in the two-and-a-bit months of the election run-up and aftermath in 2006 saw Fox News outperforming MSNBC by a factor of 3.05. The factor was 2.77 across the whole day.
But in 2008, across prime time the factor was only 2.13 in Fox News's favour. The factor was 2.21 across the whole day.
In 2004, when George W Bush convincingly won re-election as president, the ratio was very pronounced at 4.76 in favour of Fox News across prime time. It was 3.97 across the whole day.
So between 2004 and 2008, MSNBC narrowed the gap against Fox News, arguably tracking increased Democratic support.
If the trend reverses in the run-up to these mid-term elections, President Barack Obama may have cause for concern.