Obama campaigns in California during four-day tour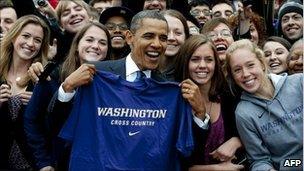 President Barack Obama is to campaign in Los Angeles for Senator Barbara Boxer and former Governor Jerry Brown, as he nears the end of a four-day tour.
He will later head to Nevada for a Democratic National Committee rally and campaign event for Senator Harry Reid.
Mr Obama is seeking to encourage core Democratic supporters to vote in the mid-term elections on 2 November.
Meanwhile, Republican Senate Minority Leader Mitch McConnell will address party supporters in West Virginia.
Mr Obama is scheduled to deliver remarks at a Democratic National Committee rally at the University of Southern California, before heading to Nevada and returning to the White House on Saturday.
He is expected to spend the last weekend before the 2 November mid-term elections in Ohio, Pennsylvania, Connecticut and Illinois.
Vice-President Joe Biden will join the president in Ohio on 31 October.
Anger over the poor economy in the US has given Republicans a shot at taking over the 435-seat House of Representatives and possibly the Senate on 2 November.
Mr Reid, the leader of the Democrats in the Senate, is locked in a close fight with Tea Party-backed conservative Sharron Angle.
Ms Angle repeatedly ordered Mr Reid to "man up" and take responsibility for the state's woes during a campaign rally in the town of Summerlin in Nevada on Thursday, where former Republican House Speaker Newt Gingrich also spoke.
During the rally, Mr Gingrich called Mr Reid "utterly irresponsible" and Mr Obama "confused".
On Friday, Mr Gingrich is expected to urge voters in the town of Collinsville, Illinois, to support Republican candidates as a part of the American Solutions Jobs Here, Jobs Now tour, a nationwide Republican-backed effort to enlist voters.
Republican gains in the mid-terms could mean a more difficult time for Mr Obama as he enters the second half of his presidency.