US elections 2010: Why Congress will have fewer women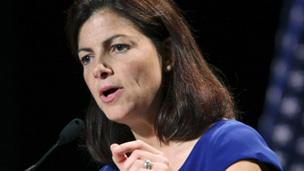 A record-breaking number of women put their names forward for the US Congress this year, but the number of women elected is expected to fall for the first time since 1978. Why?
A total of 291 women threw their hat in the ring to become congressional candidates for the Democratic or Republican parties in 2010 - 47 more than the previous record, set in 1992.
The rise was due to a sharp increase in the number of Republican contenders, two years after Sarah Palin became the first woman on the party's presidential ticket. Not for nothing has 2010 been called the Year of the Republican Woman.
Some of these Republican women have been among this election's most visible faces, including ex-Hewlett Packard CEO Carly Fiorina, wrestling impresario Linda McMahon, and Tea Party favourite Christine O'Donnell, all running for the Senate in California, Connecticut and Delaware respectively.
Altogether 128 Republican women sought to become their party's candidate for the House of Representatives or the Senate - roughly twice as many as in 2008.
But then two-thirds of them fell at the first hurdle.
In fact, in the Year of the Republican Women, fewer Republican women won their primaries and made it through to the general election than in 2004.
On the Democratic side, meanwhile, the number of women candidates running and winning primaries in 2010 has been marginally lower than in 2006 and 2008.
The upshot is that there are 91 Democratic women candidates, and 48 Republican women candidates going into the 2 November election - and experts have predicted that the figure of 90 women in the current Congress will drop by about five or 10 in the next.
There is no single reason why the Republican women candidates fared badly in their primaries, and why - if the predictions are correct - fewer women will end up in Congress.
Experts point to a number of factors:
Many of the women are newcomers, or have not been in office long, which may put them at a disadvantage
Some voters think men are better equipped to solve the country's pressing economic problems
The Democratic Party traditionally has more women candidates - and is likely to lose seats in this election
"Largely [it] is because such a disproportionate number who are in Congress now are Democrats," said Debbie Walsh, director of the Center for American Women and Politics (CAWP) at Rutgers University.
"And in case you haven't noticed, this is a year favouring Republicans."
According to Barbara Norrander, a political science professor at the University of Arizona, there is a widely-held perception that women are more liberal than men, which could be damaging to their prospects in a Republican year.
There were also lingering sexual stereotypes, she said, about what men and women were good at.
"Female candidates are still generally perceived as better at social welfare issues, such as healthcare and child care, while male candidates are perceived better at handling the economy, defence and crime," she said.
In a country struggling to emerge from recession, this could be a significant factor in 2010, she argued.
There may also, it seems, be an element of bad luck. Some women may just be candidates for the wrong party, in the wrong place at the wrong time.
Political pundit Larry Sabato warns against any assumption that a historical trend towards greater representation of women might be about halt, or unwind.
"I think it's wrong to draw too many conclusions from a single election," said Sabato, who heads the Center for Politics at the University of Virginia.
"The [upward] trend is clearly irreversible. You can have a bad year for electing women but that doesn't mean that the trend is going to reverse," Sabato said
"It's always a little bit of a rollercoaster. It's two steps forward, one step back, but that's still one step forward."
Dianne Bystrom, director of the Catt Center for Women and Politics at Iowa State University, goes so far as to question the received wisdom that there will be a significant drop in the number of congresswomen.
"Most analysts are predicting a loss of 5-10 women in the US Congress, primarily from the US House of Representatives. I am cautiously optimistic that the loss of women will be on the lower end of the predictions and could actually remain about the same," she says.
"My cautious optimism is based on history - there were similar predictions that the number of women in the US Congress would decline in 1994, and women candidates actually picked up three seats - as well as the fact that many toss-up races featuring incumbent Democratic women candidates are tightening and that Republican women will pick up some seats."
And Congress aside, 2010 is it turns out a pretty good year for women running to be governors, in the US's 50 states. There are 10 candidates - which equals the existing record set in 1994 and 2006 - competing in eight states.
In New Mexico and Oklahoma both the candidates from the major parties are women, ensuring victory for one of them.
Although the record of nine woman governors serving simultaneously looks highly unlikely to be reached this year - the current total of six looks set to be matched, if not exceeded.
Related Internet Links
The BBC is not responsible for the content of external sites.