Canadian Forces fires sex killer Russell Williams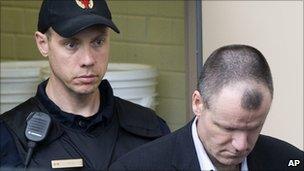 Convicted killer and Canadian air force officer Russell Williams has been stripped of his rank of colonel and fired from the military.
Governor General David Johnston agreed to a request to revoke Williams' commission and relieve him of his position, according to Canadian media.
He received a life sentence on Thursday with no chance of parole for 25 years for two murders and sexual assaults.
Williams pleaded guilty to the murders of Marie Comeau and Jessica Lloyd.
The former colonel, who once served as the pilot from Queen Elizabeth II, carried out sexual assaults on two other women.
He also admitted to a string of burglaries, in which he stole women's underwear and saved pictures on a hard drive of himself wearing the undergarments.
Chief of Defence Staff General Walt Natynczyk issued the request to undertake the disciplinary action against Williams, who will now serve out his sentence as a civilian.
The 47-year-old was arrested in February after he burgled several dozen homes, starting in 2007.
Related Internet Links
The BBC is not responsible for the content of external sites.