US surfer recalls deadly shark attack on his friend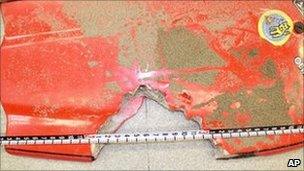 A US surfer has relived the horror of a fatal shark attack on his bodyboarding friend in California.
Matthew Garcia said he first heard a desperate cry for help from Lucas Ransom as they surfed together at Surf Beach on Friday morning.
Mr Garcia then saw the shark flashing out of the water and biting his friend's left leg off.
The surfer eventually managed to bring Mr Ransom to the shore, but the bodyboarder bled to death.
"When the shark hit him, he just said 'Help me, dude!' He knew what was going on," Mr Garcia told the Associated Press news agency.
"It was really fast. You just saw a red wave and this water is blue - as blue as it could ever be - and it was just red, the whole wave."
Mr Garcia said he first wanted to swim to the shore to get help, but then spotted his friend floating in the water.
"I flipped him over on his back and underhooked his arms. I was pressing on his chest and doing rescue breathing in the water.
"He was just kind of lifeless, just dead weight."
Mr Garcia said he eventually managed to bring his friend to the shore.
However, officials from the Santa Barbara County Sheriff's Department later pronounced Mr Ransom dead. He was 19.
The attack happened on Surf Beach, some 130 miles (210km) north-west of Los Angeles.
The authorities said they were still trying to identify the type of the shark that attacked the bodyboarder.
The last known fatal shark attack in California was in 2008, when a great white shark bit both legs of a surfer, causing the man to bleed to death.