'Hiccup girl' charged with murder of Florida man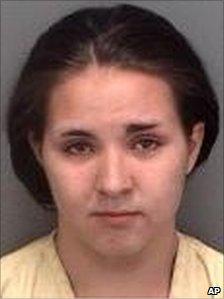 A woman who gained notoriety three years ago for her uncontrollable hiccups has been charged in the killing of a man during a robbery, police say.
Jennifer Mee, 19, and two others were charged with first-degree murder in the death of Shannon Griffin.
Ms Mee allegedly lured Mr Griffin to a home in Florida where he was robbed and shot several times by two accomplices.
She gained international media attention in 2007 for hiccupping up to 50 times per minute for weeks.
Ms Mee and the two others admitted their involvement in the murder, Sgt TA Skinner of the St Petersburg Police Department said.
Mr Griffin was lured to a house across the street from Ms Mee's apartment building after meeting her online, Police Chief Chuck Harmon said.
Mr Harmon described the alleged incident as a robbery that went awry, adding that less than $50 (£31) was taken from Mr Griffin.
The woman's hiccups finally stopped on their own, after she had tried several home remedies and visited a hypnotist and an acupuncturist.
Following Ms Mee's short-lived time in the spotlight, she reportedly ran away from home on two occasions.
Her family later sued a company that produces hiccup medicine for allegedly using the woman's image without her consent.